Does Drinking Interfere with Antibiotics?
Published: 07/25/2013
Learn More:
West Nile Fever: Battling Bad Bugs
Related:
Insects & Parasites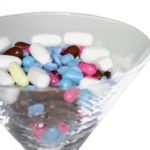 You may have heard the widespread myth that you shouldn't drink alcohol while taking antibiotics. While drinking probably won't lessen the effects of most antibacterial drugs, alcohol can lower your general energy and may delay your recovery – so it is best to minimize drinking until you've finished any prescribed course of antibiotic treatment.
If you are taking antibiotics, you should also consider the following:
Antibiotics not only kill harmful bacteria that are making you sick, they also destroy the beneficial flora in your gut and can promote the development of resistant organisms in your body. To restore the helpful organisms, take supplemental probiotics – dried or liquid cultures of live bacteria that aid digestion and maintain intestinal health. Look for products that contain Bacillus coagulans (BC-30) or Lactobacillus GG.
Work with your doctor to reserve antibiotic use for situations that really require them, such as bacterial infections in vital organs or fast-moving infections that the immune system can't contain.
Find out which vitamins are right for you.
Everyone's dietary needs are different based on a number of factors including lifestyle, diet, medications and more. To find out
what vitamins you need
, take the
Weil Vitamin Advisor
. This 3-step questionnaire requires just minutes to complete, and generates a free, no-obligation vitamin and nutritional supplement recommendation that is personalized to meet your unique nutritional needs.
Seeing Dark Spots? Dr. Weil Has a Bright Solution
Discover Dr. Andrew Weil for Origins™ Mega-Bright Skin tone correcting serum. The formula features a blend of powerful ingredients from nature including Rosa Roxburghii Complex. This fruit, known as the King of Vitamin C, contains highly potent anti-irritant ingredients that help quell melanin-triggering stress. For a limited time only, receive a free 1-week supply of Mega-Bright serum + free Shipping with any Origins.com purchase. Use Code MEGABRIGHT at checkout.