7 Effective Ways to Prevent Overeating
Published: 08/26/2013
Learn More:
Are Statins Messing With Your Memory?
Related:
Mental Health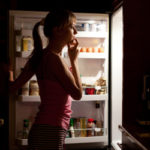 When stressed out or anxious, some people turn to food as a way to comfort themselves. However, what may be soothing at the time can make you feel worse – and weigh more – in the end. If you tend to turn to food as a way to cope with a stressful situation, consider the following seven tips:
Don't drink caffeine or alcohol (and don't smoke) when stressed. These can heighten or prolong your anxiety and worsen its side effects.
Drink plenty of water throughout the day. This can help quell the pangs of an empty stomach and promote a healthy digestive system.
Keep your blood sugar levels stable by eating several small, nutritious meals rather than three large ones.
Make sure your meals or snacks incorporate omega-3 fatty acids. Include walnuts, Alaskan salmon and freshly ground flaxseed in your diet.
When eating, take out one portion size and then close and put away the package. Leaving it open on the counter leads to continued munching.
Incorporate foods rich in magnesium, which helps relax muscles, into your diet. Whole grains, legumes, vegetables, nuts and seeds are good sources.
Above all, be aware of your eating habits. If you find yourself eating to combat stress, limit yourself to small portions, enough so you can savor the taste or texture. Then go for a walk or practice meditating: both are proven, healthier ways to address stress.
For more information on healthful eating, start your 14-day free trial of Dr. Weil on Healthy Aging – Your Online Guide to the Anti-Inflammatory Diet.
Find out which vitamins are right for you.
Everyone's dietary needs are different based on a number of factors including lifestyle, diet, medications and more. To find out
what vitamins you need
, take the
Weil Vitamin Advisor
. This 3-step questionnaire requires just minutes to complete, and generates a free, no-obligation vitamin and nutritional supplement recommendation that is personalized to meet your unique nutritional needs.
Natural Healing Orthotic Sandals
Shop the Orthaheel Summer Sale up to 30% off. Dr. Weil recommends footwear and orthotic inserts with Orthaheel technology, an innovative design which helps restore foot function and provide natural pain relief from foot, ankle and knee pain commonly associated with over-pronation. Orthaheel's podiatrist-designed sandals are stylish summer options that happen to be healthy for you too. Visit www.orthaheelusa.com today to see our collection for women and men.