5 Ways to Keep Holiday Meals on Budget
Published: 11/19/2013
Learn More:
Can Hair Dye Cause Cancer?
Related:
Cancer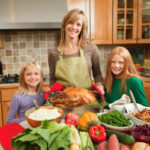 Being on a budget doesn't have to mean giving up holiday traditions. There are simple ways to help cut the costs of holiday dinners. Read on – your wallet and your health will thank you!
Focus on vegetables. They are filling, nutritious and cost less than meat. Tomorrow's Tip offers ideas for serving a vegetarian Thanksgiving dinner – read it for some delicious vegetable-based meal ideas.
Make it a potluck. If you are having family and friends over, assign each to bring an item. It will help keep your costs – and stress levels – manageable.
Make your own dessert. You can make pies a few days ahead of time and freeze or refrigerate them, eliminating the need for a more expensive store-bought version.
Calculate how much food you really need. The more food you make, the more it costs. If you aren't a fan of leftovers, consider making just enough food to feed the number of people who will be eating.
Clip coupons. Whether from your local paper or a website, there's no downside to the cost-savings coupons offer. Many stores offer double or triple the value around the holidays, so do some homework and take advantage! Be very cautious though as most coupons are offered for heavily processed and refined foods.
And don't forget to use your leftovers! Turkey soup, potato pancakes, casseroles that combine some of the side dishes – there are plenty of ways to use traditional holiday leftovers. Visit the Recipes section for some ideas!
Find out which vitamins are right for you.
Everyone's dietary needs are different based on a number of factors including lifestyle, diet, medications and more. To find out
what vitamins you need
, take the
Weil Vitamin Advisor
. This 3-step questionnaire requires just minutes to complete, and generates a free, no-obligation vitamin and nutritional supplement recommendation that is personalized to meet your unique nutritional needs.
Holiday Recipe Inspiration!
Make this Thanksgiving memorable and delicious, with the recipes on Dr. Weil on Healthy Aging! We have over 300 anti-inflammatory recipes to choose from, including appetizers, sides, entrees and desserts. From Tamari-Roasted Chickpeas and Miso-Glazed Peas and Carrots to Gingered Cranberry-Raspberry Relish, we have your holiday meals covered. Start your 14-day free trial now, and save 30% when you join!