5 Reasons to Eat Raspberries
Published: 06/14/2013
Learn More:
When is the Best Time to Exercise?
Related:
Exercise & Fitness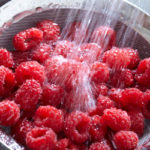 If you want a delicious way to add fiber and antioxidants to your diet, look no further than raspberries. One of my seasonal favorites, raspberries are an aggregate fruit, meaning that smaller sections with seeds and fruit create a larger whole. Raspberries have significant nutritional value – they:
Are a good source of vitamin C and fiber.
Provide folate, vitamins B2 and B3, magnesium and other essential nutrients.
Contain ellagitannins, natural health-protective compounds that appear to have potent anti-cancer activity.
Have considerable antioxidant activity (50 percent more than strawberries).
Place in the top 15 of the American Journal of Clinical Nutrition's best antioxidant sources.
For a quick and simple nutritional boost, top your oatmeal with raspberries, add some to a smoothie or salad, use them in sauces and baked goods, or enjoy them on their own. As with other berries, because commercial strains may be heavily sprayed with pesticides, I recommend buying only organic varieties.
Use raspberries in this refreshing summer drink!
Find out which vitamins are right for you.
Everyone's dietary needs are different based on a number of factors including lifestyle, diet, medications and more. To find out
what vitamins you need
, take the
Weil Vitamin Advisor
. This 3-step questionnaire requires just minutes to complete, and generates a free, no-obligation vitamin and nutritional supplement recommendation that is personalized to meet your unique nutritional needs.
Want a Healthy Carbohydrate Diet?
The Anti-Inflammatory Diet section of Dr. Weil on Healthy Aging provides articles, shopping lists, eating guides and hundreds of recipes that focus on healthy carbohydrates. See what we have to offer with your risk-free 14-day trial. Start today and save 30% when you become a member!