4 Reasons to Eat Pomegranates
Published: 05/13/2013
Learn More:
How Bad is Belching?
Related:
Gastrointestinal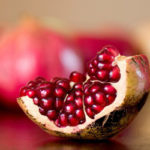 The pomegranate is an extraordinary fruit, steeped in history: the number of seeds (roughly 613) found in a single fruit were said by ancient scholars to correspond to the 613 commands of the Hebrew Torah. Renowned herbalist James Duke, a former ecologist with the USDA, published an exhaustive review of the scientific literature on the pomegranate. His conclusion: it is "one of the most promising of health foods" with "a dozen known anti-inflammatory phytochemicals and some 3 dozen antioxidants." Duke found studies that suggest pomegranate fruit and/or juice may help prevent or alleviate:
Heart disease and atherosclerosis
High cholesterol
Alzheimer's disease
If you have access to inexpensive pomegranates (as many in the southern U.S. do; the trees grow prolifically with little tending) or can afford the delicious but rather expensive juices now on the market, by all means indulge. And if you can't, remember that deep-colored fruits such as cherries, blueberries and raspberries, and deep-colored vegetables, all offer similar benefits. Enjoy!
Find out which vitamins are right for you.
Everyone's dietary needs are different based on a number of factors including lifestyle, diet, medications and more. To find out
what vitamins you need
, take the
Weil Vitamin Advisor
. This 3-step questionnaire requires just minutes to complete, and generates a free, no-obligation vitamin and nutritional supplement recommendation that is personalized to meet your unique nutritional needs.
Sensitive to redness and irritation?
Get relief with Dr. Andrew Weil for Origins™ Mega Mushroom Collection. The award winning Mega-Mushroom Skin Relief Soothing Face Serum is clinically proven to help calm and soothe skin. Limited time offer. Enjoy a Free full-size energizing eye cream with the purchase of any 2 skincare items.