10 Signs and Symptoms of Lung Cancer
Published: 11/11/2013
Learn More:
Does Copper Lead to Alzheimer's?
Related:
Aging Gracefully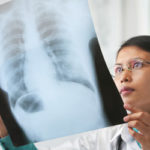 Yesterday's Daily Tip discussed four ways to minimize your risk of lung cancer. Today we look at the signs and symptoms. Lung cancer typically doesn't cause signs and symptoms in its earliest stages, with noticeable changes occurring most often when the disease is advanced. These may include:
A new cough that doesn't go away
Changes in a chronic cough
Coughing up blood, even a small amount
Shortness of breath
Chest pain
Wheezing
Hoarseness
Losing weight without trying
Bone pain
Headache (persistent)
If you experience any of the symptoms above in a way that is out of the ordinary for you contact your doctor – the earlier you catch the disease, the quicker you can begin treatment.
Find out which vitamins are right for you.
Everyone's dietary needs are different based on a number of factors including lifestyle, diet, medications and more. To find out
what vitamins you need
, take the
Weil Vitamin Advisor
. This 3-step questionnaire requires just minutes to complete, and generates a free, no-obligation vitamin and nutritional supplement recommendation that is personalized to meet your unique nutritional needs.
A Diet for Cancer?
The Dr. Weil-recommended anti-inflammatory diet can help to prevent inflammation and reduce the risk of age-related disease – including some cancers. Dr. Weil on Healthy Aging is your online guide to the anti-inflammatory diet, with hundreds of recipes, exclusive tools, videos, guides and more. We make eating anti-inflammatory simple! Start your 14-day free trial now and save 30% when you join!