Yarrow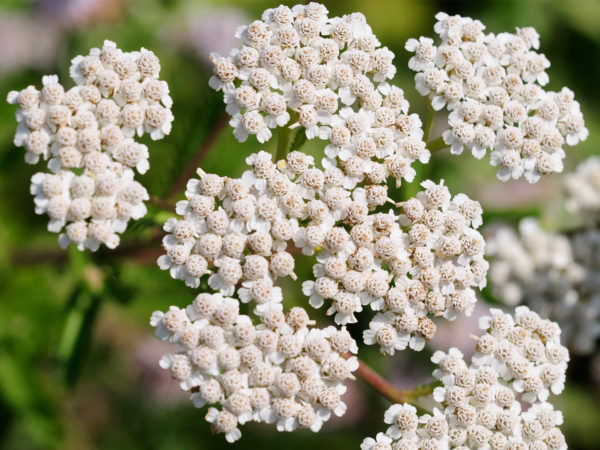 Yarrow (Achillea millefolium)

Yarrow (Achillea millefolium), also called common yarrow or plumajillo, is a flowering plant native to temperate regions of the Northern Hemisphere. It has historically been used as a topical healing herb to treat wounds, cuts, and abrasions. The genus name Achillea comes from the mythical Greek character, Achilles, who supposedly carried it to treat battle wounds. The part of the plant that grows above ground can be used to make medicine, as it contains chemicals that may have anti-inflammatory, blood-clotting, and astringent effects. It is also used in liquors and bitters, and as a food and herb.
Uses for Yarrow:
Topically, the oil of yarrow is used in chest rubs to address cold symptoms; as an astringent to treat wounds and cuts; to stop nosebleeds, and as a sitz bath. When taken orally, it may be helpful for gastrointestinal concerns, fevers and colds, loss of appetite, and as a diuretic. As a tonic, it is considered to be effective for stimulating circulation and treating high blood pressure. Traditional Chinese medicine uses yarrow to promote intelligence and to brighten the eyes, and it is considered to be a lucky herb. Native American medicine also holds yarrow in high esteem: It is regarded as a "life medicine" and is used to address toothaches (by chewing the fresh leaves), headaches, earaches, and fever and promote rest and sleep.
Yarrow contains salicylic acid, flavonoids, coumarins, sterols, bitters, and tannins.
Yarrow Is Available In:
Flowers, oils, powders.
Interactions And Warnings:
Yarrow may decrease the effectiveness of antacids and similar medications, as well as medications and herbs that slow blood clotting. It may affect how your body gets rid of the drug lithium and may cause extreme drowsiness when taken with sedatives.
Other Safety Concerns:
People with allergies to ragweed should avoid skin contact with yarrow, as it may cause an allergic reaction. Women who are pregnant should avoid taking yarrow as it may encourage menstruation. Those who are scheduled for surgery should avoid taking yarrow for at least two weeks prior so as not to promote blood clotting.
Yarrow Dosage:
There is no agreed upon standard dose. Dried flower heads are traditionally used to make yarrow tea (two to four grams of flower heads steeped in hot water, then strained). Follow label directions with topical preparations, tinctures, and liquid extracts.
Child dosage:
Not recommended for children.
Dr. Weil Says
When it comes to stopping surface bleeding, especially nosebleeds, yarrow is a safe and effective herbal remedy. For nosebleeds, sniff a bit of the powdered form of yarrow – helpful for anyone who has recurrent allergies that cause sneezing and runny nose that lead to nosebleeds, or during dry, winter months when nosebleeds are common.
SOURCES:
Consumerlab. consumerlab.com/tnp.asp?chunkiid=21887

Yarrow. Natural Medicines Comprehensive Database Consumer version. Stockton, CA: Therapeutic Research Faculty, updated May 3, 2013, accessed March 7, 2014, at naturaldatabaseconsumer.therapeuticresearch.com/nd/Search.aspx?rn=4&cs=NONMP&s=NDC&pt=100&id=151&fs=NDC&searchid=45474445

Combining Western Herbs and Chinese Medicine, 2003, "Achillea", P. 165–181. Jeremy Ross; accessed at swsbm.com/ManualsMM/SpecIndic3.txt

Akram M. Minireview on Achillea millefolium Linn. J Membr Biol 2013;246:661-663.
Reviewed by Russell Greenfield, M.D., August, 2016.