Cherry Bark Tea for Coughs?
What can you tell me about cherry bark tea? Is it true that it can help relieve asthma and COPD-related symptoms? Can it be used for any other health problems?
Andrew Weil, M.D. |November 15, 2012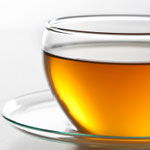 Wild cherry trees grow throughout North America. Native Americans traditionally stripped the bark of the young plants, dried the inner bark and ground it for use as a remedy for cough and other health problems. These days, you can buy powdered wild cherry bark in health food stores and use it to make tea that can help to quell coughing. Wild cherry bark powder is also an ingredient in some well-known commercial cough syrups.
I discussed your question with Tieraona Low Dog, M.D., an internationally recognized expert in the fields of integrative medicine, dietary supplements and women's health, and an authority on botanical medicine. She explains that the inner bark of the cherry tree is a very old and revered herbal remedy used by both indigenous Native Americans and ancient Chinese physicians to relieve coughs, colds and congestion. However, Dr. Low Dog notes that cherry bark tea should be used only for short-term treatment (10-14 days) as it contains hydrocyanic acid, which can be toxic if taken in excess. This substance is also what helps wild cherry bark work; as it is metabolized it is excreted rapidly by the lungs, where at first it increases respiration and then quiets and calms the nerves that stimulate coughing.
Another chemical in wild cherry bark is prunasin, which is known to cause birth defects. For that reason, it's best to stay away from wild cherry bark tea when pregnant or breastfeeding.
A natural remedy for treating acute asthma attacks is lobelia, or Indian tobacco (Lobelia inflata). Mix three parts tincture of lobelia with one part tincture of capsicum (red pepper, cayenne pepper). Take 20 drops of the mixture in water at the start of an asthma attack. Repeat every 30 minutes for a total of three or four doses. Here's where you can read about my recommendations for asthma control and the prevention of symptoms.
For COPD (chronic obstructive pulmonary disease) I recommend taking 60 mg of the softgel form of coenzyme Q10 (CoQ10) twice a day. This can improve use of oxygen at the cellular level. CoQ10 is best absorbed when taken with a meal containing some fat. I also suggest taking the Chinese medicinal mushroom cordyceps, which is nontoxic and may be useful in slowing the progression of chronic lung disease. Cordyceps has also been studied for improving lung efficiency in athletes, and might offer benefits for those with compromised function. Look for capsules of cordyceps extract and follow the dosage directions on the label. Here's where you can find more of my recommendations for dealing with COPD.
Andrew Weil, M.D.