2014 Balanced Living Annual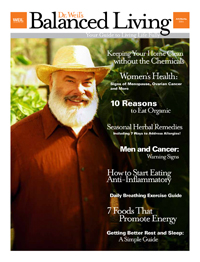 Welcome to the Andrew Weil, M.D., Balanced Living 2014 Annual. All 12 issues of 2014's Balanced Living are here in one easy-to-use interactive magazine format, along with a letter from Dr. Weil, a table of contents and more. It's a wonderful way to learn more about preventing cancer, proactive steps for women's and men's health concerns, how to achieve better rest, and suggestions for starting the Anti-Inflammatory Diet. The Balanced Living 2014 Annual is complimentary to all readers of DrWeil.com.
Current issues are available each month to members of Dr. Weil on Health Aging and Spontaneous Happiness.
See more Flipbooks here.