Sex Drive Dwindling?
As my spouse and I get older, we engage in sex less frequently than in the past. Is there any truth to the "use it or lose it" factor when it comes to sex?
Andrew Weil, M.D. | June 25, 2013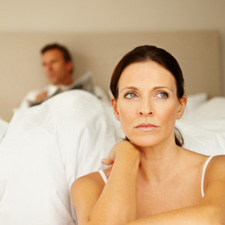 It is common to experience an age-related decline in sex drive. Nonetheless, many seniors remain sexually active well into their eighties, which suggests that "using it" makes a difference.
In postmenopausal women, diminished sexual desire is due to decreasing hormone levels, specifically of testosterone, the male hormone that fuels sex drive in both men and women. Supplemental testosterone has been used successfully to reverse this in women, often in combination with estrogen. Testosterone isn't FDA-approved for use in women, however, and questions remain about its long-term safety, particularly whether or not it can increase the risk of breast cancer or cardiovascular disease. Another female problem: the hormonal changes brought on by menopause can cause vaginal dryness that can make sex uncomfortable. But when older women continue to engage in sex frequently, increased circulation to the genitals may improve lubrication and the elasticity of vaginal tissues. (If not, vaginal lubricants can help.)
"Use it or lose it" applies to men, too. A five-year study from Finland published in 2008 found that the fewer erections men had, the greater their risk of erectile dysfunction (ED), a disorder that is common among men over age 60. (Men who already had ED were excluded from the study.) After adjusting for health problems such as high blood pressure, heart disease, diabetes, and depression, the researchers found that men who reported having intercourse less than once a week had twice the incidence of ED compared to those who reported having intercourse once a week. Regular intercourse appears to protect against the development of ED in men between the ages of 55 to 75.
Despite the fact of diminishing sex drive with age, a landmark study from the University of Chicago published in 2007 found that sexual activity declines only slightly from the 50s to the 70s and that most people ages 57 to 85 view sexuality as an important part of life. However, the researchers reported that sexual activity (particularly among women) often drops off in the 70s as a result of declining health. They also found that among the seniors who remained sexually active (meaning intercourse, oral sex, and masturbation), nearly half reported at least one sexual problem, such as lack of desire (43% of women), vaginal dryness (39% of women) or erectile dysfunction (37% of men). The most common reported reason for sexual inactivity among men and women with a partner was the male partner's physical health. Women, especially those who were not in a current relationship, were more likely than men to report lack of interest in sex. The study was published in the August 23, 2007, issue of the New England Journal of Medicine.
Andrew Weil, M.D.