Rice Water For Hair Growth?
I've heard that using rice water on my hair can help it grow, or make it thicker and healthier. Is that true?
Andrew Weil, M.D. | December 6, 2022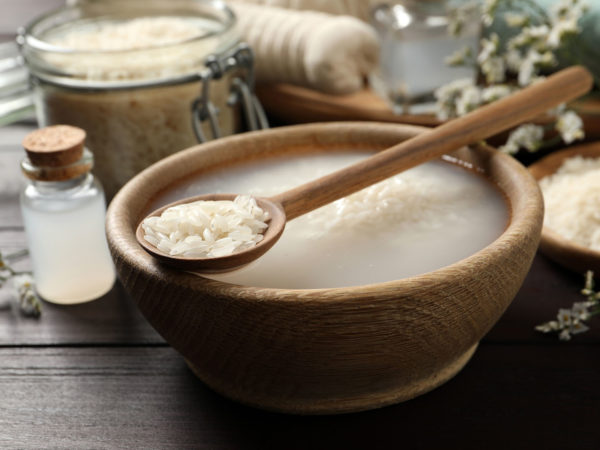 If you spend any time on beauty web sites, or if you follow certain celebrity or "influencer" social media accounts, you've probably heard about the trend of using rice water to enhance hair growth, reduce tangles, and improve shine and volume. A letter to the editor of the Journal of Cosmetic Dermatology named rice water for hair health as one of the top five "hairfluencer social media trends every dermatologist should know in 2021." I'm not convinced. There's little evidence to support the claim that rinsing hair with rice water enhances its shine or volume; I am especially skeptical that a do-it-yourself rice water rinse would help generate new hair growth. There is, however, some promise that future rice-based products may do so.
Rice water is the starchy liquid produced by soaking rice in a bowl of water, or the excess left after cooking rice. It is touted as a simple home remedy based on traditional Asian practices, an easy way to encourage the growth of new hair and make it more voluminous and shinier. I've often looked to traditional Eastern practices for alternative health solutions, and this would be welcome news for those experiencing male pattern or other forms of baldness. In fact, a team from Baylor College of Medicine did a review of scientific literature and concluded that "ingredients isolated from rice and its components have wide potential for use in skin care and cosmetic products." However, it's a far cry from that finding to a claim that a DIY rinse can make your hair grow.
Many reports about the traditional uses of rice water credit the same source: a 2010 paper written by a research team from a Japanese beauty products company. That paper reported that "the court ladies of the Heian Period, whose beautiful long hair, called suberakashi, reached to the floor, were said to have combed their hair each day using Yu-Su-Ru (rinse water obtained from the washing of rice)." The team concluded that using rice water alone did reduce hair's surface friction and increase elasticity, but they noted that rinsing with rice water was a bit cumbersome and, in some cases, caused flaking, which led them to recommend using Yu-Su-Ru extracts instead. Today you can find a plethora of commercial hair products available using rice extracts, along with YouTube videos and TikTok posts showing social media stars rinsing their hair with homemade rice water.
More recently, a controlled scientific study by a group of researchers in Thailand tested compounds extracted from several varieties of Asian rice on human hair germinal matrix cells in petri dishes as well as on living mice. The study found that red pigmented rice in particular showed promise in moving hair cells out of the telogen (resting) phase and into the anagen (growing) phase. Researchers noted that compounds found in the rice may serve as promising raw materials for the development of future products.
There is probably little to no harm in trying a homemade rice water rinse on your hair, although that Journal of Cosmetic Dermatology letter warned that the high starch content of the rinse had the potential to damage hair. If you do try it, I would recommend keeping your expectations limited to shine and detangling – you're unlikely to see any new growth from your do-it-yourself rinse.
Andrew Weil, M.D.
Sources
Thitipramote N, Imsonpang S, Sukphopetch P, Pradmeeteekul P, Nimkamnerd J, Nantitanon W, Chaiyana W. "Health Benefits and Safety of Red Pigmented Rice (Oryza sativa L.): In Vitro, Cellular, and In Vivo Activities for Hair Growth Promoting Treatment." Cosmetics. 2022; 9(6):111. doi.org/10.3390/cosmetics9060111
Zamil DH, Khan RM, Braun TL, Nawas ZY. "Dermatological uses of rice products: Trend or true?" J Cosmet Dermatol. 2022 May 19. doi: 10.1111/jocd.15099. Epub ahead of print. PMID: 35587098. pubmed.ncbi.nlm.nih.gov/35587098/
Inamasu, R. Ikuyama, Y. Fujisaki and K.-I. Sugimoto. "The effect of rinse water obtained from the washing of rice (YU-SU-RU) as a hair treatment." Abstracts of papers published in Journal of Cosmetic Chemists (SCCJ), Volume 44, No. 1, 2010. onlinelibrary.wiley.com/doi/10.1111/j.1468-2494.2010.00605_3.x
Paiewonsky B, Heinen N, Hordinsky M, Sadick N, Farah RS. "Hairfluencer social media trends every dermatologist should know in 2021." J Cosmet Dermatol. 2022 May 27. doi: 10.1111/jocd.15123. Epub ahead of print. PMID: 35621251. pubmed.ncbi.nlm.nih.gov/35621251/