Banishing Blemishes?
How can I get rid of freckles and moles on my face caused by sun damage?
Andrew Weil, M.D. | November 8, 2006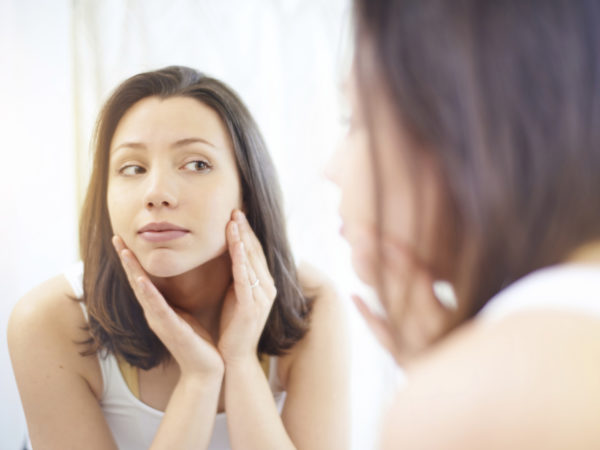 The face is the body part most exposed to the damaging rays of the sun (with the possible exception of the chronically hatless bald head). If you don't protect yourself, sooner or later, you'll see the results: age spots (large freckles), wrinkles and dry, scaly growths called actinic keratoses that can turn into skin cancer. Topical anti-inflammatories can help address some of the changes, but unfortunately, I know of no supplements or nutritional changes that will entirely eliminate the aftermath of sun damage. Although I'm not entirely in favor of conventional methods, plastic surgeons and dermatologists offer a number of techniques.
Glycolic acid treatments: This type of "surface repair" makes use of natural acids, also called "alpha-hydroxyacids," that can come as a cream or gel that you apply yourself to gradually improve sun-damaged skin. You may notice some redness and irritation at first, but this generally disappears as your skin adjusts to treatment.
Retin A: A cream or gel that you apply at home that eliminates fine wrinkles and blotchy pigmentation due to sun damage by thinning the skin's outer layer. It will take about six months of daily applications to see a difference. Although Retin A isn't FDA approved for treatment of sun damaged skin, dermatologists have been commonly prescribing it for this purpose. However, you must always keep sunblock on your face when you're using this treatment.
If you want quicker results, you can try one of these surgical procedures:
Laser skin resurfacing: Laser beams vaporize layers of sun-damaged skin on the whole face or on specific areas. If you have olive, brown or black skin, you may see some pigment changes after skin resurfacing (by this or other methods). Other risks include burns or other injuries from the laser's heat. It is performed under local or general anesthesia and can take as long as an hour and a half. Plastic surgeons and dermatologists can perform the procedure. Make sure that the doctor you consult with has been well trained, and has privileges to perform laser skin resurfacing at an accredited hospital (even if your procedure will be done in the office). Afterwards, you'll probably have some skin swelling; healing takes about 10 days.
Chemical peel: Here, a chemical solution is used to remove the damaged outer layers of skin. A number of products are used for the peels, some stronger than others. Although these treatments may seem less drastic than laser resurfacing, they still present risks, including infection and scarring, so you need to make sure that the plastic surgeon or dermatologist you consult is top notch. Anesthesia is generally not needed for the procedure, but sedation may be used; the time it will take for your skin to heal afterward will vary depending on the strength of solution used. Results vary from subtle (if the peel is mild) to dramatic (if it is strong).
Andrew Weil, M.D.