Hampered By Hammertoes?
I have developed a hammertoe. Is there anything I can do to correct it short of surgery? I have been taping it down to avoid rubbing it on my shoe, but it is still red and hurts.
Andrew Weil, M.D. | February 13, 2019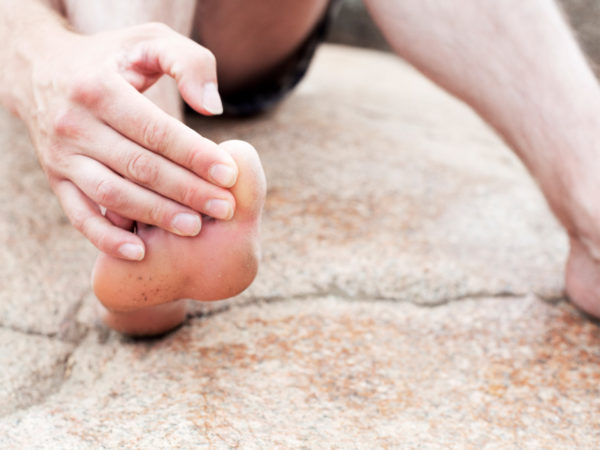 A hammertoe is a deformity of the second, third, fourth toe causing it to bend at the middle joint and curl under. Affected toes appear a bit claw-like, can cause foot pain, and affect your ability to walk properly. Corns or calluses usually develop on top of the toes involved as a result of friction against footwear. At first, a hammertoe may remain flexible, but over time, it can become permanently stiff. The deformity usually is caused by shoes that are too tight in the toe area or by high heels. Some cases appear to be hereditary.
The most important thing you can do for a hammertoe is to relieve pressure on it by wearing comfortable shoes. Make sure your footwear fits properly. According to the American Academy of Orthopaedic Surgeons, shoes should be one-half inch longer than your longest toe. (A technique taught to shoe sales personnel is to be sure the distance is at least the width of the client's thumbnail.) Your right and left foot may not be the same size, so be sure to have both of them measured.) Remember that shoe size can change over time – feet tend to get wider as we get older – so don't assume you know your correct size. Keep in mind that feet swell during the day, so it's best to shop for new shoes at the end of the day.
You may feel more comfortable wearing sandals or other shoes that don't cover the toes.
In addition, simple exercises, such as picking up marbles with your toes or crumpling a towel placed flat on the floor under your feet and stretching your toe muscles can help. You can take an occasional over-the-counter nonsteroidal anti-inflammatory drug for pain and use pads to prevent your shoes from rubbing on your toes.
You might also consider orthotics, shoe inserts that can help correct improper foot movement and alignment. These provide firm support that can help restore feet to their natural position. Over-the-counter products can be as effective as (and more affordable than) custom orthotics.
If these methods don't work, you may have to consider surgery, usually done on an outpatient basis with a local anesthetic. If your toe is still flexible, this involves making an incision to release a tendon, allowing the toe to straighten. If not, toe-straightening surgery may be necessary, which requires cutting or realigning tendons and removing pieces of bone that may be preventing the toe from achieving its correct position.
Andrew Weil, M.D.
Sources:
foothealthfacts.org/conditions/hammertoe
orthoinfo.aaos.org/en/diseases–conditions/hammer-toe