Forget Flossing?
I just read that flossing doesn't do anything to protect against gum disease and tooth decay. Does that mean that all of us who have been flossing for years should just quit?
Andrew Weil, M.D. | September 23, 2016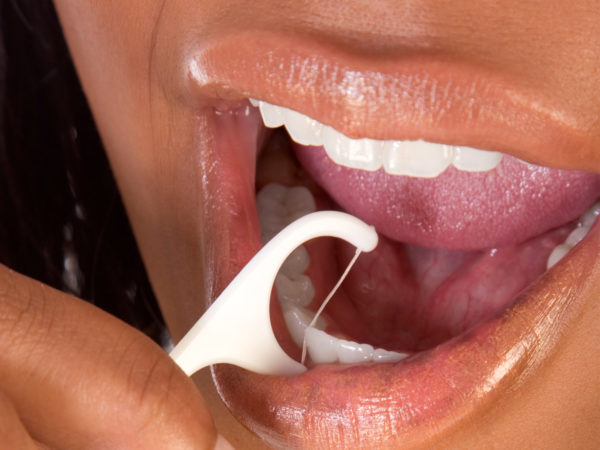 The news that flossing may not be as good for our teeth and gums as we've been led to believe made headlines in the summer of 2016, and shocked many people who dutifully floss daily. But it shouldn't have been much of a surprise for dentists who keep up with research: In recent years, several scientific investigations have looked into the benefits of flossing and found little evidence to show that it really benefits our oral health.
We may never have known about these findings had it not been for an Associated Press (AP) inquiry that began in 2015. The AP asked the U.S. Departments of Health and Human Services and the U.S. Department of Agriculture for the evidence behind long-standing government recommendations to floss daily. (The AP noted that the flossing recommendation had been dropped from the 2016 U.S. Dietary Guidelines.) The upshot: in a letter to the AP, the government acknowledged that the effectiveness of flossing had never been proved.
The AP then looked at what were considered the 25 most rigorous studies comparing the use of a toothbrush alone with the use of a toothbrush and floss. Results showed that evidence for flossing is "weak, very unreliable," of "very low" quality, and carries "a moderate to large potential for bias."
One of the reviews, an analysis published in 2011, did document a slight reduction of gum inflammation due to flossing, but the reviewers ranked the evidence as "very unreliable." The AP reported that a commentary in a dental magazine stated that any benefit from flossing seen in this study would be "so minute it might not be noticed by users."
Some of the studies suggesting that flossing helps were disturbingly short – lasting only 2 weeks in some cases – too short to actually produce reliable findings. One study looked at 25 people after they flossed once. Since gum disease and tooth decay don't develop in a single night, to prove that flossing is protective, we would need longer, larger studies looking at the effects over time and comparing differences, if any, between tooth brushing alone and brushing plus flossing. One confounder: many people who floss do not do it properly. "Professional" flossing may be more beneficial.
Flossing is not without some risk although we don't know how much. It is possible for careless flossing to damage gums, teeth and dental work, the AP reported. And some research suggests that the practice can dislodge harmful bacteria from teeth that can then invade the bloodstream and cause dangerous infections. It isn't known how often this can happen.
Although many dentists and dental organizations have acknowledged that there's little evidence that flossing is beneficial, as of this writing none have backed away from recommendations to floss daily. But the new findings may cheer those who don't always floss: last year (2015) a survey found that 27 percent of U.S. adults lie to their dentists about how often they do it.
I assume that people who have long flossed daily will follow dental advice and continue to do so, while those who haven't will no longer feel guilty about it.
Andrew Weil, M.D.
Sources:
Iain L.C. Chapple et al, "Primary prevention of periodontitis: managing gingivitis." Journal of Clinical Periodontology, April 2015, DOI: 10.1111/jcpe.12366
Dario Sambunjak et al, "Flossing for the management of periodontal diseases and dental caries in adults." Cochrane Database of Systemic Reviews. December 7, 2011, doi: 10.1002/14651858.CD008829.pub2.