Living Walls & Vertical Gardens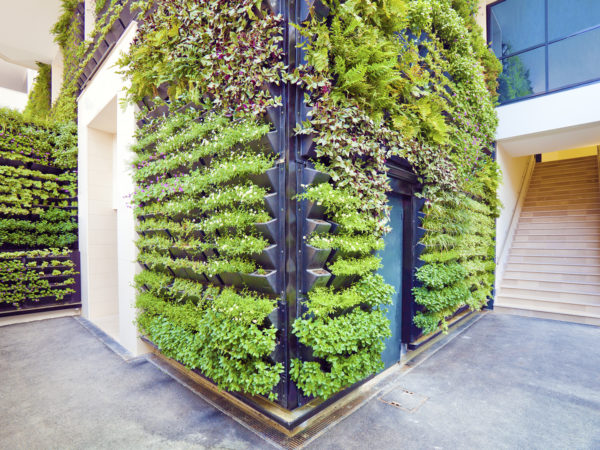 "Gardening just makes me happy," says Dr. Weil. He has maintained gardens large and small throughout his life, reaping fresh, organic vegetables and gorgeous flowers – not to mention fresh air and gentle exercise. But what if you have no (or little) outdoor yard space?
Then lift your gaze. Thanks to innovations in planting technology, every wall is a potential garden.
"Plants are the lungs of the earth, just like swamps are the kidneys," says Joe Zazzera. "They keep us going. More and more, live plants will be incorporated into our constructed environments." Propelled by that philosophy, Zazzera's Scottsdale, Ariz. company, Plant Solutions, is flourishing like the succulent plants that line his showroom's walls. One of his largest "living wall" installations graces the patio of Dr. Weil's True Food Kitchen restaurant in Newport Beach, Calif., where it has dazzled all who have seen it.
"It's a perfect complement to the point we're making with the restaurant," says Dr. Weil. "Plants – both as food and decoration – should be part of daily human life."
While home gardening is nothing new, Zazzera and Plant Solutions have spent the last decade taking plant design to the next level – literally. "There is so much vertical space to grow into both indoors and outside, but people just don't think about it," says Zazzera. Vertically mounted plants are not only beautiful, but, like all plants, they trap atmospheric carbon during photosynthesis as they release oxygen back into the air – a role that is only becoming more important in our carbon-spewing industrial world. Further, "the presence of plants reduces stress and increases productivity."
While there are many different types of living walls, the following are three of the most distinctive systems:
TerraScreen Interior Greenwall:
Plants sit in individual plastic pots, each held within a larger wall-mounted metal frame
Can be built with attached irrigation tubing or plants can be hand-watered individually
No extra wall waterproofing needed
Typical uses: behind a reception desk or in an office lobby
The Panel System:
Plants sit in compartmentalized panels that are hung in a wall rack
Must be pre-grown horizontally for eight weeks prior to vertical installation
Each panel mounted separately
Requires waterproofing and irrigation installation during construction
Professionally installed cost: $100 per square foot
The Woolly Pocket:
Plants grow in breathable, moisture-retaining bags made from recycled materials, which are hung directly on the wall with screws (no rack or frame needed).
Can be hand-watered or set up for drip-irrigation (back "tongue" wicks water to roots)
Good for inside home and outside garden use
You can also use any of the three systems to grow edible plants such as herbs and vegetables vertically. To see more vertical gardening photos, check out the Flickr set!