Joyful Gardening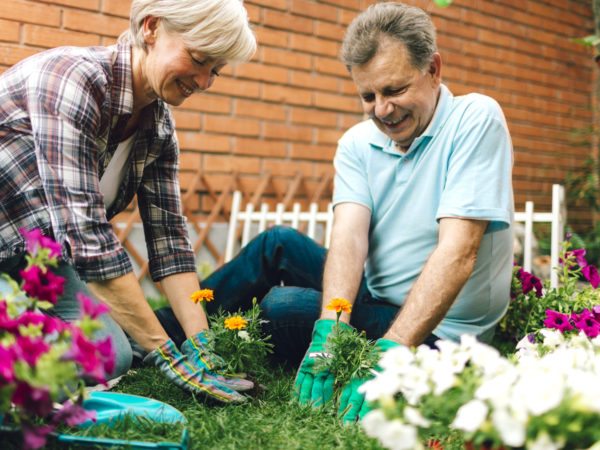 "What brings you joy?" is a central question that Dr. Weil asks patients during an intake interview. If Dr. Weil himself were asked that question, one activity would be near the top of his list.
"Gardening just makes me happy," he says, waving a hand at the profusion of vegetables and flowers spilling across his 2,500 square foot plot. The garden occupies an honored place on Weil's homestead, a 120-acre former cattle ranch in remote southeastern Arizona. It is just outside his office window – as he works, he turns to look at it, and often succumbs to the temptation to wander out for a bit of weeding, planting or harvesting: "There is just something wonderful about growing your own food, about working with the land to do this." Along with healthy, low-impact exercise, he says, a vegetable garden provides plants at their peak of taste and nutrition.
Dr. Weil's passion for growing plants dates back to his 1950s childhood in Philadelphia, when he tended a tiny garden behind his parents' row house. That love remained undimmed as he acquired a Harvard B.A. in biology, specializing in botany, and spent much of his adult life roaming the world to learn about both wild and cultivated medicinal and food plants. "There was a long period when I was an academic and/or traveling and I had no garden, but I always missed it," he says.
This plot has been under cultivation for 12 years, as long as Dr. Weil has lived here. He feels lucky to own such a fertile piece of land. "In other desert places I have lived, before you garden, you have to dig out this horrible stuff called caliche, which is basically rock with a little topsoil on top of it. Here, because it is a flood zone, we've got many feet of silt with a neutral ph, so it's great soil."
Which is not to say the site is perfect. In fact, "This is a very challenging place to garden," says Dr. Weil. For starters, if plants love the soft soil, "pocket gophers love it even more," he says with a sigh. "If they get in, you see carrots disappearing into the ground like a Bugs Bunny cartoon." Other hazards include birds, deer, javelina, cold, heat, bugs, high desert winds and drought. "If you are a desert critter and you've had nothing but prickly pear to eat, this looks pretty tempting."
But Weil and his gardener, Jace Mortensen (for Jace's tips on growing specific vegetables organically, look here), have vanquished the hazards one by one via a mix of earth-friendly strategies. Anyone contemplating a desert vegetable garden – or perhaps even one in a more forgiving climate – can learn from these defensive measures borne of Dr. Weil's and Jace's hard-won experience:
Four-legged marauders are excluded via a wire-mesh fence that extends three feet below the ground.
A wire mesh ceiling, propped with poles, keeps out birds.
In the dead of winter – which comes in the middle of the prime September-to-March desert growing season – frost is vanquished with plastic sheeting rolled over the mesh, creating a greenhouse that captures solar energy. This is further warmed on particularly chilly nights with a small gas heater. "We really need it, because we're at 3,500 feet," says Dr. Weil.
Drought presents its own challenges. The winter of 2005-06 was the driest in Arizona history, until a massive flood in July of 2006 inundated the ranch (but, miraculously, spared the garden). Fortunately, the water table is high on his ranch, but Mortensen still waters sparingly. "We run the irrigation for about one minute every other day," says Mortensen. "That's about the least we can get away with."
Insects challenge vegetable gardeners all over the world. Mortensen uses biological controls such as BT and neem, but "very sparingly," he says. Dr. Weil concurs. "When I see a plant being devoured by insects, my usual reaction is, 'We should stop trying to grow that plant,'" he says. Through years of trial and error, they have learned which varieties are unappetizing to the local insect life.
The soil on the ranch started out relatively fertile, but Dr. Weil and Mortensen amend it constantly with compost from four bins on the property (which need regular watering or it will stop decomposing in the dry climate). They also added minerals such as greensand in the early years, but "we haven't added more of that for quite awhile," says Mortensen.
Result: a garden that consistently feeds Dr. Weil and his support staff of seven on the ranch, with enough leftover to allow many visitors to haul away goodie bags of vegetables. "It's a productive space," says Dr. Weil. "But the spiritual rewards are just as rich."