Sizing Up Salt?
What's the difference between all the various kinds of salt I see at the store? Is one type healthier than another? Is there any advantage to using sea salt? What about iodized salt?
Andrew Weil, M.D. | March 2, 2015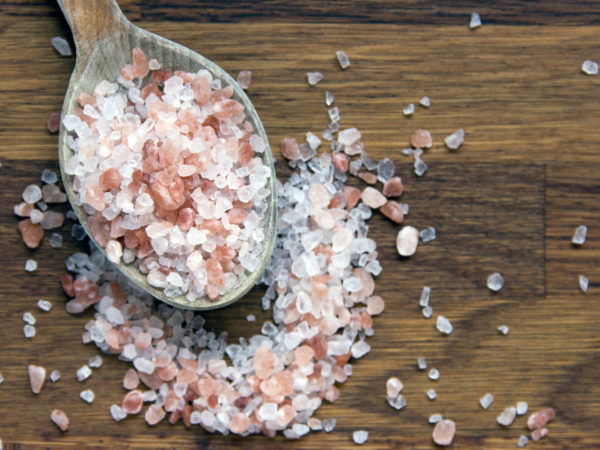 Before I describe the various types of salt available, I'll address the issue of iodized salt. Iodine was first added to salt in the United States in 1924 in order to eliminate goiter (enlarged thyroid due to iodine deficiency). This condition was common in a sweeping area once called the "goiter belt" extending from the Great Lakes region across the northern states and encompassing parts of the Pacific Northwest.
We can get iodine naturally by eating saltwater fish and seafood, kelp and other sea vegetables as well as vegetables grown in soils that contain iodine. Dairy products also provide iodine if the animals graze on plants growing in iodine-rich soils. However, don't depend on processed foods that are high in sodium for iodine – the salt they contain is not iodized. Many Americans are iodine deficient so it's a good idea to use iodized salt.
In my kitchen I use both unrefined (gray) and refined (white) sea salt. I prefer these variations to commercial salts that often have additives I don't like, such as aluminum compounds to prevent caking. Sea salt contains trace amounts of iodine.
Beyond the iodine issue, your choices depend on what you're using the salt for and your taste preferences. Here's a rundown of the best-known types:
Kosher salt: This coarse-textured salt dissolves quickly and can be used for any kind of cooking. Kosher salt is not "kosher" in the sense that other foods may be – the name comes from the fact that it is used for drawing the blood out of meat, a step in the koshering process. Ordinary table salt is too thin to be used for koshering. You should be able to find kosher salt in your supermarket. Read the labels and avoid brands that contain anti-caking agents.
Sea salt: Natural sea salt comes from evaporated seawater and is harvested all over the world. Depending on where they come from, commercial brands of sea salt usually contain a variety of trace minerals that may influence the taste and color of the product. Raw sea salt is often grayish-white, sometimes pink or orange. Sea salt can be fine or coarse in texture and comes as crystals and flakes. Flaked sea salt dissolves faster than other types of salt. The most famous flaked sea salt is Maldon from the Essex coast in England. Prices range from $2 to $15 per pound at specialty stores or online.
Fleur de Sel: Another prized salt. Fleur del sel means "flowers of salt" in French and is so-called because the crystals look like lacy snowflakes. Fleur de sel is white because the salt crystals don't come in contact with the clay beds in which seawater concentrates. It is harvested from the surface of the water where it forms when winds are calm and the weather is warm. Look for it in specialty food shops and online. Its precious nature is reflected in its price: about $1 to $3 per ounce.
Many other types of salt are available, including pink salt from Peru and the Himalayas, red salt from Hawaii, black volcanic salt – all with distinctive trace minerals – as well as smoked and other flavored salts.
Andrew Weil, M.D.