Juice Fast for Weight Loss?
My doctor told me to lose 50 pounds this year. I am considering a 10-day juice fast to kick off my weight loss regimen as a transition from a meat-based diet to a vegetable-based diet. What is your opinion of juice fast/detox diet programs?
Andrew Weil, M.D. | March 1, 2012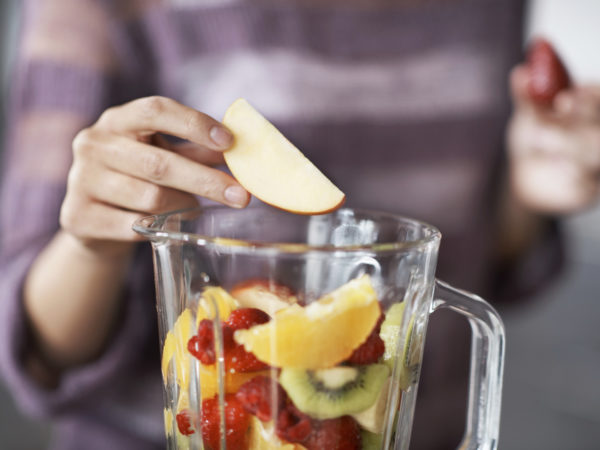 Originally published March 1, 2012.
I'm not a proponent of detoxification programs. The body does a pretty good job of cleansing and purifying itself. If you stop putting toxins in and focus on good nutrition, regular exercise, and other healthy habits, you won't feel the need to do this sort of thing. Beyond that, you can help the body in its normal functions to rid itself of unwanted materials by drinking more water to increase urinary output, taking steam baths or saunas to promote sweating, adjusting diet and fiber intake to ensure regular eliminations, and getting enough aerobic activity to stimulate breathing. You might also consider milk thistle, which helps maintain normal liver function, aiding its important role in metabolism.
While I wouldn't rely on a juice fast as a way to lose weight (remember that fruit juice is a concentrated sugar source), occasionally I devote a day to drinking only fresh juice and water to give my digestive system a rest. Restricting your food intake frees up energy that your digestive organs (the bulkiest in the body) would otherwise consume. Unlike a water-only fast, a juice "diet" is unlikely to cause such side effects as lightheadedness, fatigue, or headaches.
If you're set on trying a juice fast I recommend that you drink only juice from fresh, organically grown fruits and vegetables. Drink at least four eight- to 12-ounce glasses of juice plus plenty of pure water (at least four eight-ounce glasses per day) and, if you like, unsweetened herb tea.
I suggest preparing the juice yourself. This is easiest if you invest in a juicing machine. Drink homemade juice no more than an hour after making it – otherwise, its nutritional value will deteriorate. If you can't make juice yourself, buy natural juices that don't contain added sugar.
You can safely perform a juice fast for one to three days, but before you begin, I suggest consulting your health care practitioner. In general, when starting a juice fast, be sure you pick a time when you know your activity will not be as strenuous as usual. To keep yourself regular during your fast, take powdered psyllium. Mix a tablespoon in a big glass of water, drink it all and then drink a glass of pure water. When the time comes to break your fast, be sure to eat lightly and slowly – some whole fruit, perhaps.
Do not fast if you're diabetic, pregnant, or nursing.
As far as weight loss is concerned, the only formula that works reliably is eating less and exercising more. To lose weight while maintaining or improving your health, I recommend:
Andrew Weil, M.D.