Is Food Porn Fattening?
I've heard that "food porn" – taking and posting pictures of what you're about to eat at home or in restaurants – could be contributing to the obesity epidemic. Is looking at photos of food really fattening?
Andrew Weil, M.D. | January 7, 2016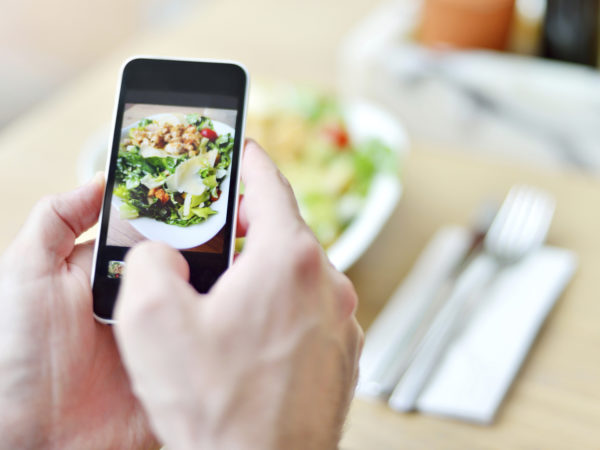 It could be. A University of Oxford study has concluded that all those pictures posted on social media, in addition to the popularity of television cooking shows and the fame of celebrity chefs, has resulted in a widespread obsession with food that is, literally, feeding the obesity epidemic. The researchers found that our exposure to "visually succulent cooking procedures and beautifully portrayed dishes…(could be) inadvertently exacerbating our desire for food, leading us to eat more often than we should."
The researchers cited laboratory studies showing that watching food-related television programs can affect our eating habits and lead to increased consumption of calories in the food we prepare for ourselves.
The Oxford researchers note that more than any of our other senses, vision provides our brains with the most effective means of predicting which foods are safe and nutritious. Furthermore, contemporary neuroscience has demonstrated that the sight of appealing food can be a powerful cue to seek food and eat, especially in the brain of a hungry person.
It appears that the extent and reach of food porn is enormous and shows no signs of abating. In October 2015 the British newspaper the Telegraph reported that the 'food porn' hashtag has been used more than 68 million times on Instagram while on Twitter the top account dedicated to "feeding your eyes" has more than 1.4 million followers. The Oxford researchers noted that some chefs have embraced the phenomenon "by providing diners with camera stands at their restaurant tables, even serving food on plates that spin 360°, thus allowing their customers to get the perfect shot every time."
But not all chefs are so accommodating. In Germany, it is now a copyright infringement to post food porn. That nation's Federal Court of Justice has expanded copyright protection to artistically arranged food. It held that the chef who creates the arrangement holds a copyright on it. As a result, if you photograph the food on your plate and post it, you could be in violation of the chef's copyright. I've read that under German law a photo is protected only if the arrangement of the food is regarded as "advanced" or "artistic," meaning that taking a photo of fast food or a plate heaped with sausage and potatoes isn't likely to land you in legal trouble. If you're in an upscale German restaurant, however, and can't resist the urge to show the world what you're about to eat, it's recommended that you ask the chef or the manager if it's OK to take a photo. So far, no one has been sued for copyright infringement for taking a picture of fancy German restaurant food. Think twice, too, about snapping photos of your food in three-star restaurants in France; some chefs there have been trying to ban the practice, but reportedly, others view food porn as good for business, even if it's not good for our waistlines.
Andrew Weil, M.D.
Source:
Charles Spence et al, "Eating with our eyes: From visual hunger to digital satiation." Brain and Cognition, September 29, 2015 doi: 10.1016/j.bandc.2015.08.006