Is Fast Food Getting Healthier?
What's your take on the fast-food chains McDonald's and Burger King making healthy changes to their menus?
Andrew Weil, M.D. | May 21, 2015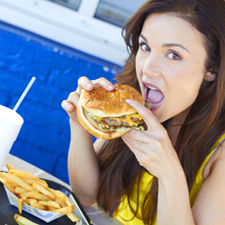 It's true that McDonald's has announced that by March of 2017, it will have phased out the sale of chicken (but not beef) raised with the type of antibiotics that are also used for human health. This is reportedly a business decision made in recognition of the threat of increased antibiotic resistance in humans. However, the chain will continue to use chickens raised with ionophores, antibiotics that are not used to treat humans but given to animals to accelerate growth.
McDonald's isn't the first fast-food chain to move in this direction. In 2014, Chick-fil-A announced its phase-out of chickens raised with antibiotics at its U.S. outlets within five years and in 2015 announced that more than 20 percent of the chickens it cooks are raised without antibiotics.
Chicken producers have also moved away from use of antibiotics. Tyson Foods, Inc., reports cutting use by 84 percent since 2011; Perdue Foods announced in 2014 that it had removed antibiotics from all its hatcheries. Costco, the nation's third largest retailer, announced in March 2015 that it is working toward eliminating the sale of chicken and meat from other animals raised with antibiotics used to treat infections in humans.
In addition, Burger King has removed soft drinks from its kids' menu meals. (That doesn't mean kids can't get sodas there, just that the drinks aren't sold with meals aimed at youngsters.)
In a similar fashion, Nestlé announced a plan to remove all artificial colors and flavors from its chocolates by the end of 2015. In comments made for CNN and posted on her blog "Food Politics," my friend Marion Nestle, M.P.H., Ph.D., (no relation to the Nestlé company) author and professor in the department of nutrition, food studies and public health at New York University, said Nestlé USA's own research "indicates that Americans prefer their beloved candy brands to be free of artificial flavors and colors, while other surveys find majorities of respondents saying that artificial chemical additives negatively influence their buying decisions."
Clearly, the message that fast food, sodas, artificial colorings and flavorings are unhealthy is now resonating with the public and resulting in business decisions that I hope will have a positive effect on health over time.
Bear in mind that despite recent moves by the chains to shake their unhealthy image, the fact is that they still sell unhealthy food. The fast food industry has a long way to go before it can legitimately claim that it provides healthy meals and is no longer a central factor in the obesity epidemic.
Andrew Weil, M.D.