Is Bone Broth Really Healthy?
I've seen a lot of articles on the popularity of broth made from chicken, beef or pork bones. What do you think of the health claims made for bone broth? Does it really help wounds heal faster and boost the immune system?
Andrew Weil, M.D. | June 26, 2015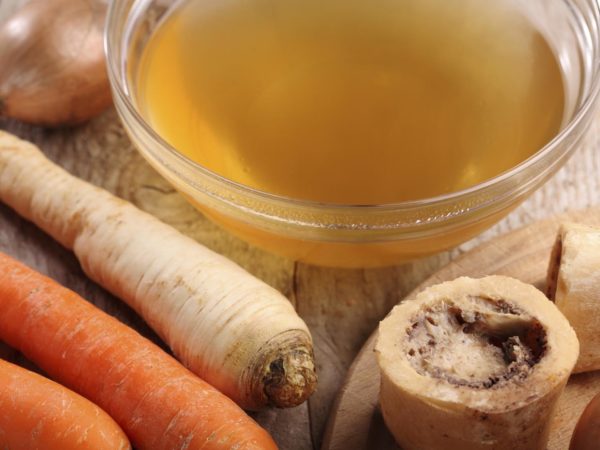 The "discovery" of bone broth is a bit surprising since it has long been a culinary staple called "stock" used in cooking around the world. Bone broth is a star of the enduringly popular Paleolithic diet, something to sip instead of the tea and coffee that are off limits to adherents.
And its popularity has been spreading. In New York City's East Village, a storefront window attached to a well-known Italian restaurant now dispenses beef, chicken and a combination of chicken, turkey and beef broth in paper cups. Customers can request such additions as grated fresh turmeric, house-made chile oil and bone marrow, the New York Times reported. And I've read that the Belcampo Meat Company in California is selling bone broth for $3.50 a cup at its butcher shop-restaurants.
I have my doubts about some of the health benefits that have been touted for bone broth, since there's scant scientific research on the subject. One often cited study, published in 2000, showed that chicken soup (made from chickens plus their bones) really can ease cold symptoms, at least in the lab. Researchers at the University of Nebraska exposed neutrophils, the white blood cells that fight infections and promote inflammation, to diluted chicken broth. The liquid influenced the movement of the cells, suggesting that chicken soup might have similar effects in the body. The soup tested was from a family recipe provided by the lead researcher. However, the team also tested canned soups and found that all but two worked in the lab as well as the homemade version (but reportedly didn't taste as good).
Since I don't eat chicken or meat, I don't have much experience with bone broth, so I asked Christy Allen, a Traditional Chinese Medicine practitioner and Licensed Acupuncturist here in Tucson, for her thoughts. She told me she views bone broth as part of a good diet and, practically speaking, an efficient use of an animal. "If I spend $10 on an organic, pastured chicken, I want to get the most nutrition I can out of it. I save carcasses in the freezer, and make broth to use as a base for stews, or to add to other recipes for flavor and nutrients," she explained, emphasizing the importance of using bones from animals that were raised without steroids, antibiotics or growth stimulants.
If bone broth appeals to you, it is easy to make at home – all you need are lots of meaty bones that you simmer for up to 24 hours. You can make it on the stovetop or in a crockpot.
Andrew Weil, M.D.
Source:
Stephen I. Rennard et al, "Chicken Soup Inhibits Neutrophil Chemotaxis In Vitro."Chest, doi:10.1378/chest.118.4.1150