Healthier Fast Food?
I've heard that fast-food restaurants are offering "healthy" options such as salads and smoothies or listing milk, juice or water instead of soft drinks with children's meals. This all seems too good to be true. Will the restaurants really do this?
Andrew Weil, M.D. | December 6, 2013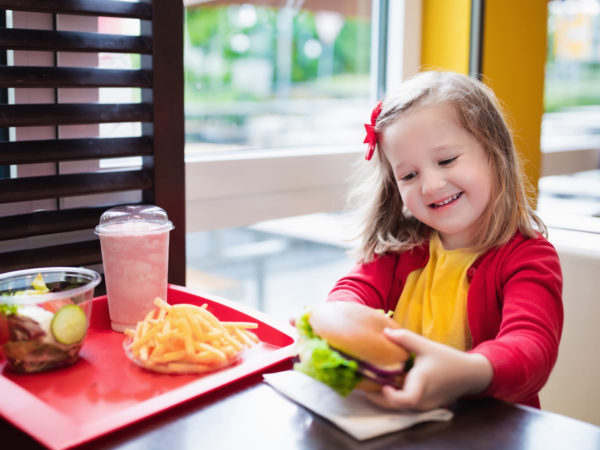 I'm skeptical, too. The fast food industry is certainly under a lot of pressure to clean up its act. Leading this effort is First Lady Michele Obama, who has focused public attention on the shortcomings of fast food as we know it today – too many calories, too much bad fat and too many sweetened beverages, including soft drinks made with high fructose corn syrup (HFCS).
On her excellent and informative blog "Food Politics," my friend Marion Nestle, M.P.H., Ph.D., author and professor in the department of nutrition, food studies and public health at New York University, has had a lot to say about this issue, most recently about a White House conference on food marketing to children held on September 18, 2013. The meeting brought together representatives of the food industry, trade associations, media, government agencies, private organizations, and universities. Dr. Nestle, who attended, reported that representatives of food companies repeatedly claimed that those calling for changes in their marketing of fast food to children "are not giving them nearly enough credit for how hard it is for them to accomplish this. They have shareholders to please. They need positive reinforcement."
Apparently, fast food executives have learned to talk the talk but not walk the walk. Dr. Nestle reviewed the McDonald's Corporation's latest promises to go healthy, a deal brokered with the Clinton Foundation's Alliance for a Healthier Generation. The food chain took out big newspaper ads promising, among other things, to remove soda from kids' "Happy Meals" and offer only milk, water and juice. If you think that is too good to be true, you're right.
Dr. Nestle reports that a look at the fine print of McDonald's promises shows that while the chain would list water, milk or juice among the beverage selections with its kids' meals, it reserved the right to "list soft drinks… on… Happy Meal…menu boards." What's more, the company announced in a press release that, "All pieces of this commitment will be implemented in 30-50 percent of the 20 major markets within three years and 100 percent of the 20 markets by 2020." As Dr. Nestle wrote when describing this series of events, "Don't hold your breath for any of (McDonald's) promises to happen soon."
She also wrote that the First Lady's speech was well worth the trip to attend the White House conference. Here's an excerpt from the transcript:
"… ideally, in a decade or so, we would see a dramatic shift across the entire industry. We'd see companies shifting marketing dollars away from those less healthy products and investing those dollars in your healthier products instead….There might be those out there whose strategy is to just wait this out-folks who might still be thinking to themselves, well, in a few years, this lady will be gone – (laughter) –  and this whole "Let's Move!" thing will finally be over, so we can go back to business as usual. And I know that none of you here are thinking that way. (Laughter from audience.)  But if you know anyone who is – (more laughter) – you might want to remind them that I didn't create this issue, and it's not going to go away three and a half years from now when I'm no longer First Lady."
In conclusion, Dr. Nestle wrote: "Cheers for Let's Move! for taking this (issue) on."
I'll second that, but I believe it will take ongoing public pressure on the fast food industry to make a difference in what it is marketing to kids and to the rest of us. The most powerful leverage consumers have is to spend their money on healthier food elsewhere.
Andrew Weil, M.D.