Does OJ Really Deliver Calcium?
I just heard that the calcium in some fortified orange juice may not be absorbed by the body. I've been counting on orange juice to help me get the daily calcium I need. What should I do?
Andrew Weil, M.D. | November 4, 2005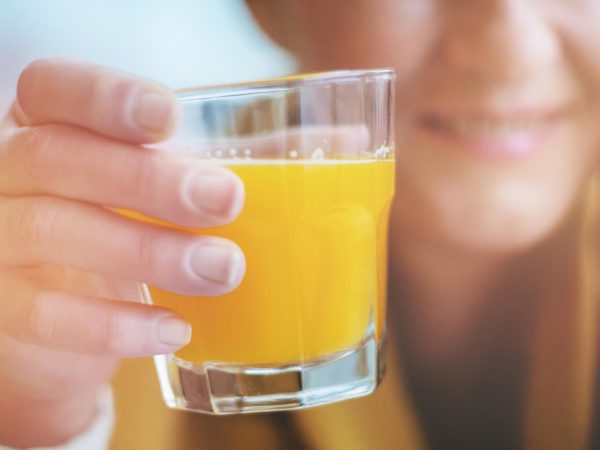 You may have heard about a study showing that some calcium-fortified orange juice contains calcium that isn't readily absorbed, meaning that you're not getting as much as you think you are per serving. The study was done at Creighton University in Omaha by a team led by Dr. Robert P. Heaney, a nationally known authority on calcium. The researchers recruited 25 healthy young women and asked them to drink two different brands of orange juice on separate days with their breakfast. Later, the researchers took blood samples to determine how well the calcium in the juice was absorbed.
Each brand of juice contained 500 mg of calcium per serving, but one brand provided calcium in the form of calcium citrate and malate and the other a combination of tricalcium phosphate and calcium lactate. The researchers found that the women absorbed 48 percent more of the calcium citrate than they did of the other type of calcium. The study was published in the May 2005 issue of the Journal of the American Dietetic Association and was partially funded by the manufacturer of the orange juice that contained the better absorbed form.
If you drink calcium-fortified orange juice frequently, look for brands containing calcium citrate and malate. Unfortunately, consumers have no way of knowing whether their bodies really are absorbing the nutrients added to any food via fortification. Commenting on his study, Dr. Heaney noted that only pressure from consumers will force manufacturers to test their products to make sure that added nutrients are bioavailable – absorbed by the body as intended.
Calcium from natural products also varies somewhat in its absorbability, as do some supplements. But you can't go wrong by eating a lot of cooked greens (collards have the most calcium), molasses, sesame seeds, broccoli, and tofu (read package labels to make sure calcium was used in its preparation), as well as calcium-fortified soy milk (check the type of calcium used here, too), and, of course, high-quality, organic dairy products.
Andrew Weil, M.D.