Preparing Pumpkin?
Are pumpkins nutritious? If so, how can you cook them (other than pies)?
Andrew Weil, M.D. | October 28, 2017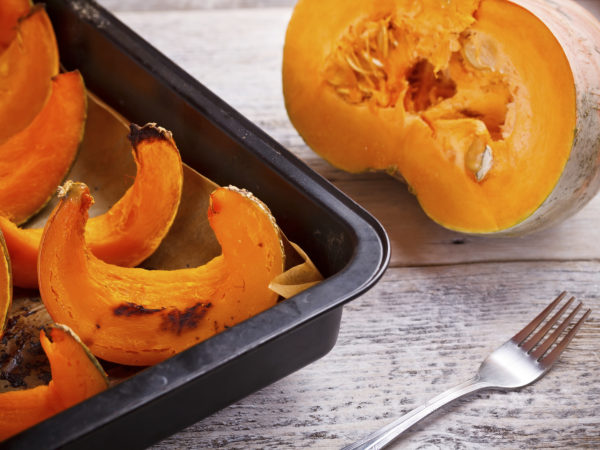 Yes, pumpkin is very good for you! The pumpkin's color is a clue to its nutritional value as a great source of antioxidant carotenoids. A half cup serving gives you a day's worth of these protective pigments. Pumpkin also provides fiber, vitamin C, potassium, and phosphorus – and is low in calories: only 49 in a cup of the cooked flesh.
Most of the pumpkins sold in this country are used for making Jack-O-Lanterns for Halloween. And then, of course, there's pumpkin pie. But pumpkin is incredibly versatile – you can cut it into chunks and steam it as a vegetable (add nutmeg to spice it up). Mix it with apples, pears and rhubarb, add it to casseroles, use it to make souffles, and toast the pumpkin seeds for snacks (just wash the seeds well, dry them on a cookie sheet and then roast them in the oven for about 30 minutes at 375 degrees Fahrenheit).
You can also substitute fresh pumpkin in any recipe calling for winter squash or sweet potatoes. Look for recipes for pumpkin soup, pumpkin bread, pumpkin risotto, pumpkin pancakes, pumpkin pudding, and even pumpkin smoothies made by blending cooked pumpkin with banana, vanilla, and plain yogurt.
Here are some tips on selecting and cooking pumpkin from nutrition specialists at Texas A&M University:
Choose pumpkins that are unblemished and have no decay spots. A bit of the stem should remain in place. Store your pumpkin in a cool, dry place – it will last for months.
Once you cut a pumpkin open, you must cook it right away. If you don't, the orange flesh develops a feathery black mold. Chill cooked pumpkin immediately.
Use the pureed, cooked pumpkin within 36 hours or freeze it.
This is the time of year to experiment with pumpkin. Enjoy!
Andrew Weil, M.D.