Cooking With Spices: Lavender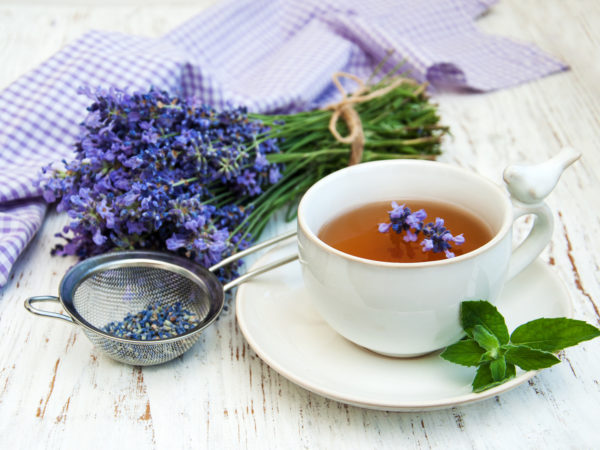 Lavender (Lavandula) refers to a genus consisting of 39 species of flowering plants. Part of the mint family, lavender is native to dry, temperate climates including the Mediterranean region, the Arabian peninsula, Russia and Africa. The most widely cultivated species is English lavender (Lavandula angustifolia). It is also the species with purple-colored flowers responsible for the color of the same name.
Lavender has been popular since Roman times, when a pound of flowers was worth a farmer's wages for a month. Now, lavender is widely available at affordable prices, and used for medicinal, culinary, decorative and fragrance purposes. The lavender plant is tall with fine hairs; flowers bloom in whorls above the leaves and are typically blue or purple in color.
The word "lavender" is thought to come from the Latin word "lavare" which means "to wash," and may refer to an ancient practice of adding lavender to wash water for its pleasant scent. Medicinally, lavender is widely used to help with sleep and relaxation. Typically, the plant or its essential oils can be placed near the bed at night; the flower heads can also be used to create a tea. One clinical study that looked at lavender's effects on sleep quality found that ingested capsules of lavender oil did have a significant ability to alleviate anxiety and related sleep disturbances.
There are many health benefits of lavender: it can be used orally to treat nervousness, depression and headache, as well as digestive concerns including flatulence, loss of appetite and nausea. Topically, lavender has shown benefit in treating the hair-loss condition known as alopecia areata: applying lavender oil (combined with the essential oils from cedar wood, thyme and rosemary) may improve hair growth by as much as 44 percent after seven months of treatment. It can also be applied topically as an insect repellant and locally to painful joints. Via inhalation, lavender is a popular aromatherapy oil, used to address insomnia, pain and anxiety.
It is recommended that women who are pregnant and/or breastfeeding avoid ingesting lavender. It may increase photosensitivity and is not recommended topically for boys as some studies have linked the use of lavender oil to gynecomastia, or breast growth.
For culinary use, lavender's floral and slightly sweet flavor makes it widely adaptable. The dried buds, also called flowers, can be used as an herb added to meat and salad dishes. It can also be added to dressings and condiments; candied to make edible decorations or blended with sugar to create a unique flavor. Lavender can be added to cheeses; blended into teas; and combined with chocolate and baked goods as well.
When choosing for culinary use, make sure you purchase organic lavender to avoid the pesticides commonly used on decorative plants and flowers. The buds should be brightly colored and tightly closed. Kept in a tightly sealed container away from heat and moisture, it should retain its flavor and aroma for up to six months.
Dr. Weil's take:
Lavender grows well in the hot, dry climate of my southern Arizona home. I like to hang and dry bundles of it in my kitchen as a natural air freshener; I often have some in the bedroom where I can enjoy its calming, peaceful aroma as I fall asleep.
As a culinary herb, lavender in small amounts is an outstanding companion to grilled salmon with fresh lemon. I've also found a little lavender and crumbled bleu cheese on baked sweet potatoes to be very pleasing. Iced, herb-infused water containing lavender can be a great alternative to iced tea, and refreshing on a hot day.
---
Try Rosemary Raspberry Lemonade with lavender.