Cooking with Silicone?
Is silicone cookware safe?
Andrew Weil, M.D. | September 4, 2007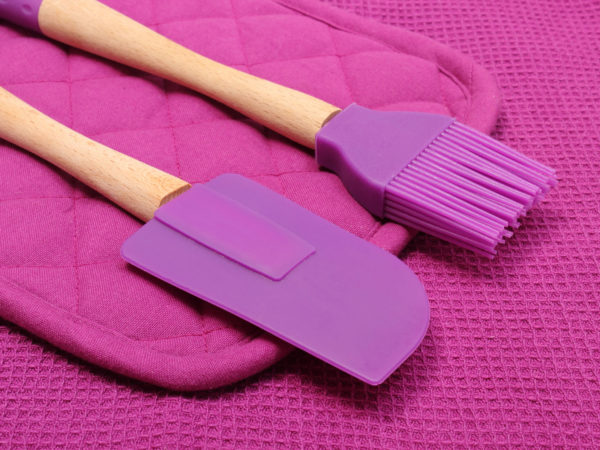 Silicone is a synthetic rubber which contains bonded silicon – a natural element, abundant in sand and rock – and oxygen. Although I still prefer stainless cookware, silicone kitchen products seem to be everywhere these days. You can now get cheery, brightly colored cake pans, muffin tins, colanders, potholders, baking mats, ice cube trays, pastry brushes, spoons, cake pans, and even roasting pans made out of silicone. Sales of these products have mushroomed into the millions. The advantages of silicone include heat resistance, flexibility, the fact that it can go directly from the oven or microwave into the refrigerator or freezer and that it is generally easy to clean. Silicone containers are also environmentally friendly; the snap-on lids can eliminate the need for plastic wrap or aluminum foil.
Silicone appears to be safe. It is an inert material – nothing used in its manufacture will leach into foods. So far, no safety problems have been reported, but if you're concerned, stick to silicone kitchen tools (such as spatulas) and avoid bakeware.
You might be interested in an assessment by New York Times food writer Marian Burros about the usefulness of silicone cookware. After testing a variety of products, Ms. Burros reported that the baking pans are not as nonstick as you might think: she found that you do have to grease them if you want your cakes and muffins to slide out unscathed. She had the most trouble with loaf pans, cake tins, brownie pans and Bundt pans. But she gave a rave review to potholders that double as trivets, mitt-type potholders, and a spatter screen that she found actually did prevent grease from speckling the stove top. Some of the products tested by the Times proved impractical, among them silicone garlic peelers, lemon squeezers, and measuring cups.
When you buy silicone products, make sure that you get good quality ones that don't contain any filler. Ms. Burros recommended pinching and twisting a flat surface to see if white shows through – if so, filler has been used and the product may not be uniformly heat resistant and may impart an odor to food.
Since silicone cookware is relatively new, we don't know much about how long it will last. But since it is comparable to other types of cookware, replacement should not be too much of a hardship.
Andrew Weil, M.D.