Choosing Canola Oil?
I notice that the FDA has permitted canola oil to carry a label saying that it can reduce the risk of heart disease. You emphasize olive oil, but some of your recipes call for canola oil. Do you recommend canola oil as an alternative to olive oil?
Andrew Weil, M.D. | December 6, 2006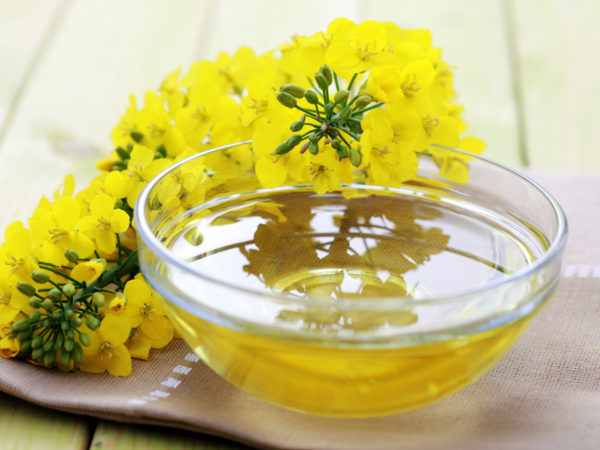 In October 2006, the FDA authorized new health labeling for canola oil and foods containing canola oil. The labels can say that limited evidence suggests that eating 19 grams of canola oil daily (that's about one and a half tablespoons) may reduce the risk of heart disease as long as you also reduce the amount of saturated fat in your diet and don't increase your total caloric intake.
Canola oil is primarily a monounsaturated fat and, as such, is healthier than saturated fats or polyunsaturated oils. However, I consider it a distant runner-up to olive oil. We have a wealth of evidence showing that populations that consume good quality olive oil as a primary dietary fat have significantly lower rates of both heart disease and cancer than those that don't. We have no comparable epidemiological data for canola. Also unlike extra-virgin olive oil, canola oil doesn't contain the antioxidant polyphenols that are protective against heart disease and cancer.
Canola oil is extracted from rapeseed, a plant in the cabbage family. Rapeseed oil is the traditional cooking oil of India and southern China, but the kind we use was bred in Canada to contain less erucic acid, a toxic fatty acid, than other varieties. This Canadian oil became known as canola oil.
I use canola oil in moderation, when I want a neutral-tasting oil, but I always look for organic, expeller-pressed brands. The lower-cost products sold in supermarkets have often been extracted with chemical solvents or high-speed presses that generate heat. Both methods alter the oil's fatty acid chemistry in undesirable ways. Furthermore, canola oil producers use a lot of pesticides on their crops, and I suspect that residues find their way into the finished product, so be sure to check labels.
Andrew Weil, M.D.