The Legacy Of Color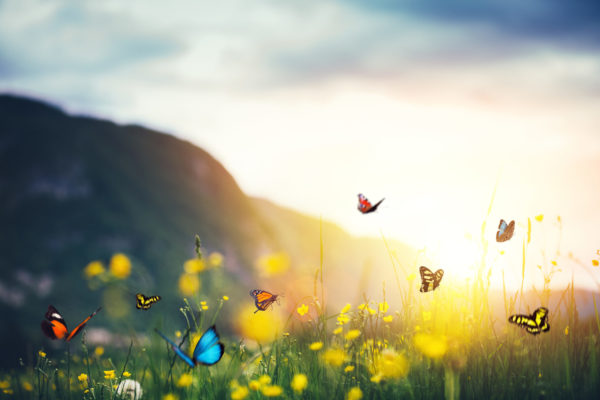 In January of 2018, I wrote about the Legacy of Music, and received many appreciative comments, and the tips were widely shared. On February 2nd, 2018, I flew to Israel for a two-month stay, both to get away from the cold white snow and its grey counterpart as the beautiful white becomes light grey slush, and dirtier dark as the days progress. I also went to support my eldest granddaughter, who was finishing Basic Training in the Israeli Air Force, her two year mission to save lives and give back for all her privilege. Since my arrival, I have been surprised, edified, and appreciative about many things, including the legacy of color.
Relating to our January topic of music, I'll first offer you a sense of the music of my neighborhood, a block from the Mediterranean Sea in south Jaffa (Yafo). There's the muezzin's call to prayer five times a day, chanted from the minaret of a nearby mosque, complemented by the music of young Israeli-Arabs playing their eternal football (soccer) game from morning to night on the court just beyond the small road across from my front door; the honking and screeching of brakes as busses, cars, and motorcycles round the curve in the road two doors away; the multiple bird species who sing me awake from sunrise to sunset. Some might interpret this as ugly cacophony, but for me it is the song of Jaffa, and I am loving it.
"I try to apply colors like words that shape poems, like notes that shape music." – Joan Miro
"Why do two colors, put one next to the other, sing?
Can one really explain this? no.."  – Pablo Picasso
This month we'll explore and discover the legacy of color, though it's all around us – like music –we're often unaware of it as we go about our daily lives, like ostriches whose heads are buried in sand.
"I think it pisses God off if you walk by the color purple in a field somewhere and don't notice it."
― Alice Walker, The Color Purple
"I was a child who went about in a world of colors." – Frida Kahlo
Colors that have awed me since I left the white and grey of Minnesota winter: the ever-changing blues of sky and sea just outside my temporary home; brilliant poppy-red anemones wild in fields at Darom Adom; myriads of fruits and vegetables in the Mahana Yehuda Jerusalem market; a lush cactus garden (some species more than 7 feet tall) on my granddaughter's kibbutz (home when not on base) in the Negev (desert) at dusk; very different colors in Ein Kerem, a Jerusalem suburb, visited with my landlady and her husband: the three gold domes of the Moskubia Monastery standing high above the grounds of Gorney Convent, a feast for the nose as well as the eyes: rosemary and lavender growing everywhere, fluttering grey-green olive leaves held by their twisted, gnarled branches and trunks, providing backdrop for the dramatic and varied green leaves and grasses, and the gentle pastel pink and white blossoms of the almond trees in full bloom.
"Mere color unspoiled by meaning can speak to the soul
in a thousand different ways." – Oscar Wilde
"Nature always wears the colors of the spirit." – Ralph Waldo Emerson
Paraphrasing from January's Tips: "What has this to do with legacy?" Simply, it encourages me to write to my grandchildren to share about how color, textures and person-made materials enrich my life. More I want them to know how important the legacy of color is to nurture them when they're troubled or confused, when their hearts are breaking, when they need healing, when their souls need comforting, and when they're full of gratitude.
"Color is a power which directly influences the soul." – Wassily Kandinsky
Legacy writers are storytellers, guides and teachers, culling knowledge from life experience, transmuting, preserving, and communicating values to loved ones of younger generations. Isn't that the purpose of legacy writing? In this case, the value is to keep our eyes and awareness open to color wherever and whenever we find it.
"The purest and most thoughtful minds are those which love color the most." – John Ruskin
"All colors are the friends of their neighbors and the lovers of their opposites." –  Marc Chagall
"With color one obtains an energy that seems to stem from witchcraft." – Henri Matisse
"I found I could say things with color and shapes that I couldn't say any other way."
– Georgia O'Keefe
Practice The Legacy Of Color
Reflect about what color means to you – when you were a child, a teen, a young adult, and today.
Choose one of the quotations here that speaks to you personally and spend 15-20 minutes writing about it.
Do you have a personal story or experience that expresses your attitudes, feelings, perspective about color, person-made or in nature, that may be relevant to others?
Write a legacy letter to a loved one, a child or grandchild, or a close friend sharing your enhanced awareness of and appreciation of the legacy of color and its meaning in your life.
Resolve to open your awareness and your eyes to color to nourish your heart and your soul.
"Let me, O let me bathe my soul in colors;
let me swallow the sunset and drink the rainbow."
– Kahlil Gibran
Rachael Freed, LICSW, senior fellow, Earl E. Bakken Center for Spirituality & Healing, University of Minnesota, is the author of Your Legacy Matters and Women's Lives, Women's Legacies. [email protected]  and www.life-legacies.com