Herbs
Stinging Nettle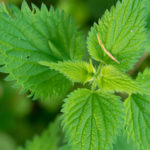 Urtica dioica
Used for:
Stinging nettle (Urtica dioica) has a long tradtional medicinal history and is still used to treat hayfever and other seasonal allergic reactions.
Related Weil Products
advertisement
Are You Getting The Herbs and Supplements You Need?

Everyone's dietary needs are different based on a number of factors including lifestyle, diet, medications and more. To find out which herbs and supplements are right for right for you, take the
Weil Vitamin Advisor
.
Available in:
Freeze-dried in capsules, and cut and dried for infusion (tea)
Herb / drug interactions:
None known
Other safety concerns:
None known
When buying:
Look for freeze-dried extract of the leaves, sold in capsules
Dosage:
Most products on the market are 500 mg, follow package directions and/or use the lowest effective dose.
Child dosage:
No more than one capsule per day