Herbs
Raspberry Leaf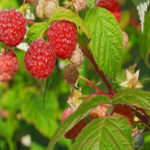 Rubus idaeus
Used for:
The traditional use of raspberry tea is to help alleviate menstrual cramps and discomfort. Raspberry leaf tea might stop excessive bleeding and calm cramps during heavy menstruation. It may also help treat diarrhea, colds, and stomach complaints.
Related Weil Products
advertisement
Are You Getting The Herbs and Supplements You Need?

Everyone's dietary needs are different based on a number of factors including lifestyle, diet, medications and more. To find out which herbs and supplements are right for right for you, take the
Weil Vitamin Advisor
.
Available in:
Dried leaves (tea), capsules, tincture
Herb / drug interactions:
None known
Other safety concerns:
Experts disagree on the safety of use during pregnancy. Consult your doctor or avoid altogether if pregnant.
When buying:
Products should contain pure leaves, as freshly dried as possible. Make your own tea by picking leaves off brambles, hanging them to dry and soaking in boiling water.
Dosage:
Two capsules two to three times daily at mealtimes; as a tea, up to six cups a day for acute problems as needed.
Child dosage:
Same as adult dose