Skin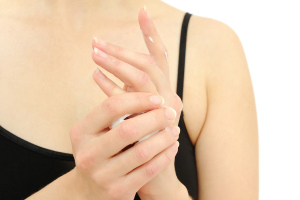 Beauty is more than skin deep, and true beauty is not achievable without good health. For natural beauty tips from the inside out, look here.
Related Skin Articles
All Related Skin Articles
Related Q&A's
A Chronic Skin Condition?
I have a skin condition called granuloma annulare. I've tried all the steroid creams without improvement. Do you know of any alternative treatments?
A Healthy Valentine's Day?
My fiancee has changed her diet, exercises regularly and follows your "8 Weeks" program. My problem: what kind of gift can I give her for Valentine's Day to fit in with her healthy new lifestyle?
A Painful Reminder of Shingles?
Do you have any advice for dealing with postherpetic neuralgia?
Aggravated by Adult Acne?
I'm 32, and I've got acne. I thought this was something that happened only to teenagers. What causes acne at this age and what type of treatment would you recommend?
Allergic to Hair Dye?
I developed a rash the last two times I colored my hair. I first thought it was coincidence. Now I'm not so sure. Could I be allergic to hair dye?
Allergic to Sunscreen?
I was at the beach last week, and after I put sunscreen on my face, both of my eyes started to tear. This continued for days and has just cleared up. The same thing happened when I had my hair colored last year. What causes this? An allergy?
Are Cold Showers Good For You?
A friend of mine takes cold showers and swims in the winter in the ocean with a "polar" group that does this annually. He claims that cold water has all kinds of health benefits, but I'm not convinced. Does swimming in cold water or taking cold showers really promote good health?
Are Liver Spots Dangerous?
I have recently noticed " liver spots" on my face. They're not very pretty, but I didn't worry until I read that these spots are a sign of a brown slime called lipofuscin that coats the neurons of the brain and causes dementia/Alzheimer's Disease. Is this true? Can I prevent this?
Are Self-Tanners Dangerous?
What's in those self-tanning products? Are they harmful to the skin or to general health?
Are Sunscreens Safe?
I just heard that sunscreens don't protect against skin cancer and may even promote melanoma. Is this true? If so, do you advise avoiding sunscreens? What would you recommend for prudent sun protection?
Asian Herb for Skin Problems?
What is the benefit of the herb gotu kola? I have rosacea and thought gotu kola was an herb to soothe skin problems.
B12 Cream for Eczema?
I read that topical B12 cream has great potential in treating eczema by helping new skin grow. What information do you have on this and where can one buy it?
Banishing Blemishes?
How can I get rid of freckles and moles on my face caused by sun damage?
All Related Skin Q&A's