Learn More:
Burns
Related:
Condition Care Guide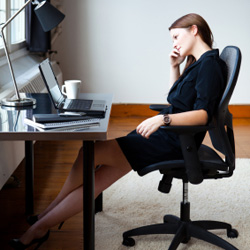 If you are concerned about heart disease and weight gain, one simple move can make a big difference: stand up! Even if you get regular exercise, prolonged sitting can increase your risk of cardiovascular disease and obesity. When you are inactive for long periods of time, your body's metabolism slows down; this can lead to weight gain.
Some simple ways to stand more often without even thinking about include:
Getting up every hour and filling your glass with water - drink it while standing up.
If you are in a long meeting at work, stand in the corner for a period of time. Better yet, if the weather is cooperative, schedule "walking meetings."
When you are on the phone or writing emails, try standing instead sitting - you can do this at home by writing emails at your kitchen counter.
At work, look into a stand-up desk. These raise and lower via a built-in motor, and offer the flexibility to stand or sit.
Find out which vitamins are right for you.

Everyone's dietary needs are different based on a number of factors including lifestyle, diet, medications and more. To find out
what vitamins you need
, take the
Weil Vitamin Advisor
. This 3-step questionnaire requires just minutes to complete, and generates a free, no-obligation vitamin and nutritional supplement recommendation that is personalized to meet your unique nutritional needs.
It's the Journey Not the Destination
Make each day count, with an outlook that both serene and inspired. Dr. Weil's website, SpontaneousHappiness.com, has everything you need to get on the path to emotional well-being. From articles and checklists to exclusive videos featuring Dr. Weil, we can help you make each day a little brighter. Learn more - start your 10-day free trial today.