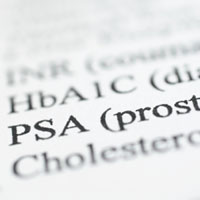 Prostate cancer is the most common type of cancer in men in the U.S., and the second leading cause of cancer death in men after lung cancer. It is typically a slow-growing disease, tends to begin in men who are over age 50, and can be treated in many ways, ranging from "active surveillance" to surgery, radiation, chemotherapy or some combination of these treatments.
This wide variety of options, each with its own risk/reward profile and unique side effects, can be bewildering for newly diagnosed men. So the faculty at the Arizona Center for Integrative Medicine (AzCIM) - the program Dr. Weil founded in 1994 at the University of Arizona's Medical School in Tucson - has created "Prostate Cancer 1-Hour Course for Everyone." The online course is available to the public for an enrollment fee of $20, which supports the development of future education modules. (The Arizona Center for Integrative Medicine is offering www.drweil.com visitors 50% off the price of the course. Simply enter the code A9PCW at checkout. For more information visit www.azcim.org/prostate.)
"This is something new for us," said Tieraona Low Dog, M.D. who is director of AzCIM's Fellowship Program. Until now, AzCIM courses have been exclusively for health care professionals who want to add integrative techniques to their treatment repertoire. This time, alongside a seven-hour online course on prostate cancer treatment for professionals, "we made a companion piece for the public. It synthesizes the seven-hour program into about an hour of user-friendly information," she said.
Integrative medicine, which brings together the best of conventional and evidence-based natural therapies, can do a great deal to help men through this difficult time with less stress and fewer side effects, Dr. Low Dog added. Nutrition, exercise, mind-body techniques, herbal and other supplements, and acupuncture are just some of the approaches that can help a man take a more active role in his cancer care.
Using video and audio (some of which can be downloaded to an iPod for portable instruction), colorful graphics and straightforward, "plain English" text, the course is divided into three sections:
I: Risk Factors and Screening
Risk Factors
Screening Myths and Facts
Screening Tests
II: Treatment
Choosing a Treatment
Preparing for Treatment
Health Eating
Food Choices
Complementary Approaches
III: Survivorship
Managing Side Effects
Words of Wisdom
Hormone Therapy
"I am delighted that the Arizona Center for Integrative Medicine is branching out to offer courses directly to the public," said Dr. Weil. "A fundamental tenet of integrative medicine is that the doctor and patient form a partnership, each actively contributing to the healing process. A knowledgeable doctor and well-informed patient are a potent therapeutic combination."
Along with Drs. Weil and Low Dog, AzCIM faculty and other experts who contributed directly or indirectly to the creation of the public program include:
Donald I. Abrams, M.D., Director of Clinical Programs, Osher Center for Integrative Medicine, University of California, San Francisco; Chief of Hematology and Oncology at San Francisco General Hospital
Jeffrey B. Blumberg, Ph.D., FACN, CNS, Friedman School of Nutrition Science and Policy, Jean Mayer ISDA Human Nutrition Research Center on Aging, Tufts University
Aaron E. Katz, M.D., Director of the Center for Holistic Urology, Columbia University Medical Center
David S. Rosenthal, M.D., Professor, Department of Medicine, Harvard Medical School; Henry K. Oliver Professor of Hygiene, Department of Faculty of Arts and Sciences, Harvard University; Active Medical Staff, Zakim Center for Integrated Therapies, Dana-Farber Cancer Institute; Director, Harvard University Health Services
Randy Horwitz, M.D., Ph.D., Medical Director, Arizona Center for Integrative Medicine; Assistant Professor of Clinical Medicine, Department of Internal Medicine, University of Arizona.
Dr. Low Dog added that this is the first of several online courses that AzCIM plans to offer directly to the public. Future courses will cover depression, environmental health and breast cancer. For more information on online courses for both health care professionals and the public, check the online course guide.
Additional information on prostate cancer from Dr. Weil's Condition Care Guide.