Meet James Nicolai, M.D.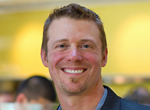 Tell us a little bit about your background. How did you come to work with Miraval?
My original training is in family medicine. After attending the Indiana University School of Medicine, I did an internship and then residency training in family medicine in Indianapolis, Indiana. During my medical education, I quickly realized that there were glaring gaps in my knowledge base. I was trained very little on nutrition. No one talked to me about the mind-body connection or how to offer an exercise prescription. My training was primarily focused on disease - how to identify it, get rid of it or at least manage it at a level where you could live with it.
This seemed to me to be a very limited viewpoint on how to get and stay healthy. Consequently, early on in my career, I was looking for alternative viewpoints on health and healing. I found them in Dr. Andrew Weil, who, through his early books, Spontaneous Healing and 8 Weeks to Optimum Health talked about a kind of medicine that I wanted to learn about and practice.
I was fortunate to be accepted in Dr. Weil's Program in Integrative Medicine Fellowship after my initial medical training. I brought my wife and six-month-old to Tucson, where I began learning integrative approaches to health: studying medicinal plants, nutrition recommendations, breathing techniques and other forms of mind-body medicine, how to assess levels of change in people and learning motivational interviewing techniques to guide people to move past resistance or limiting patterns of behavior. This is where I learned to be a healer as well as a better doctor, and after two years, I went back to Indiana to develop a practice in Integrative Health Coaching.
I stayed in Indiana for seven years, where I received certification in biofeedback, clinical hypnotherapy and bariatrics - medically supervised weight loss. Along with a medical partner, I worked to develop a lifestyle medicine program primarily addressing overweight and obese individuals. Through a multidisciplinary team, we worked with patients to teach them various tools to live differently, with the side effect being more energy and vitality, better sleep, improved relationships and self-image, as well as returning to a healthier weight with improvement in weight-related diseases like diabetes, high blood pressure and cholesterol, chronic pain and fatigue, among others. This is where I began to envision directing a Wellness Center that used lifestyle as the primary treatment: that had access to integrative practitioners, but could also be a place to learn about how to eat better, move more efficiently, manage stress more effectively and overcome behavioral obstacles through experiential learning. When I was offered the opportunity to do just that at Miraval, I jumped at the chance!
What do you think makes the Miraval experience so memorable and unique? Can you tell us more about the integrated well-being approach of Miraval? What is integrated wellness?
What makes Miraval so special is that everything about the place speaks to the notion of becoming more mindful and self-aware, from the mountains and the painted skies to the lushness of the Sonoran Desert; from the artwork on the walls and throughout the grounds to the music of native drum and flute or the mingling of birdsong; from the smell of lavender in the spa to the food, the flowing water and the comfort of that beautiful bed, Miraval itself has an energy that invites deep reflection and transformation. All of the experiences that Miraval offer to challenge and question our lives - to probe ourselves and discover whether or not we are optimizing our health - allow guests to create a lasting memory and metaphor for life change. This is a memory that never goes away, and more to the point, it inspires people to return here to create new memories with the ones they love.
Add to that the Integrative Wellness Center, and you have a whole new dimension- a health coach with a wellness team who can guide you through selecting your personal strategies for optimum health.
At the Integrative Wellness Center, we believe that optimum health is not just the absence of disease, but rather a sense of wholeness and balance that creates an inner resilience to meet the demands of living without being overwhelmed. This allows you to interact with the world without succumbing to the pressures it presents. You can be exposed to germs and not get infections, allergens and not get allergies, carcinogens and not get cancer. As a result of living this way, optimum health also brings with it a sense of freedom, joy, and confidence.
Wellness, as it relates to health, is a series of strategies - personalized and specific to the individual - that allow optimum health to be achieved. An important initial step in creating these strategies often involves asking individuals the question: "What is your personal definition of health? Are you there, yet? If not, what action steps do you need to take to get there?"
Miraval provides an environment outside of a person's reality, away from the pace and the pressures of life, to be able to ask questions like: Who am I? What's important in my life? What are my core values and needs? Who are the people that are most important to me? What is my idea of optimum health?
Once that vision of health is known, the next step involves devising a plan of action to get there. Oftentimes it helps to utilize a coach to facilitate you through that process, and guide you through your various options. This health coach can also be a motivator and source of inspiration to get you to try things you might not be comfortable with or have experienced before.
Of late, people are in need of such a coach to offer strategies to guide them through a very fast and frenetic world. Miraval and the Integrative Wellness Program is the perfect vehicle to make this happen.
What do you think are the most important ways to maintain good health and well-being?
It isn't rocket science! Maintaining good health and wellness occurs when we live life in balance. It happens when we take care to eat, drink, sleep, manage stress and relate to others in a way that we know we need to. It happens when we proactively deal with the toxicities of our lives - toxic environments, behaviors, people - and ultimately when we free ourselves from the complacency of letting the distractions of life lull us to sleep and cause us to lose our vigilance. To me that is the formula for optimum health.

Is there one bad health habit you wish people would quit? Why? How about one good habit you'd like to see more people start?
As I said above, I think the worst habit most of us fall into is complacency. It's not that most of us have never been healthy before. It's that for some reason, we found a way to lose the vigilance to maintain that healthy lifestyle. We let our health slip and the negative momentum of those choices has caused us to fall into a pattern that keeps us quietly miserable. Our health is a daily decision that we need to fight to maintain. If we don't exert that daily vigilance, it will quickly fall away from us.
The number one health strategy I teach to everyone is how to breathe correctly. Most of us have forgotten how to breathe for optimum health. Using the breath correctly can calm us down, correct hormonal imbalances, reduce pain, improve sleep, manage stress, boost immunity, access our unconscious mind, innate intelligence, even our spirituality. Learning how to breathe correctly could solve a number of stress-related problems most of us experience on a daily basis.
What is included in the Integrative Wellness Program?
For every guest who comes to see us, we want them to spend quality time reviewing their overall health history. Dr. Weil talks about health as being more than just the "absence of disease," but as a positive sense of wholeness and balance that offers a resilience to environmental stresses, so that you function more efficiently no matter where you are or what happens to you. We want to assess health based on that definition.
We use a form that gathers medical information - medical problems, drugs and supplements, past medical history, surgical procedures, family history - and is an assessment tool to see where they are mentally, emotionally, spiritually, socially, with their relationships. We want to get a sense of what their stress levels might be; whether their sleep optimal; how their job is impacting their lives, whether their relationships are fulfilling; whether their spiritual life being nourished. This allows us to get a more holistic picture of what a guest's health truly looks like.
The first component of the program offers an introduction to integrative medicine, where guests can expose themselves in an initial fashion to this kind of medical practice. How does it feel to sit down with a physician for fifty minutes to talk with them about the nature of their issues? I work with guests to get an accurate sense of what the key components of their health concerns are and work to develop a realistic plan of action that is manageable immediately. I may recommend an initial plan of vitamins and nutritional supplements, stress management strategies, or seeing one of our experts for lifestyle modification in the realm of dietary manipulation, exercise, or behavioral management. I might also recommend therapies available at the spa - acupuncture, craniosacral therapy, various forms of massage - or suggest that guests do one of our challenge experiences, undergo yoga or qi gong classes, see one of our trainers for a postural assessment or any of a number of amazing practitioners that are brilliant at offering life-changing experiences to the guest who is in need of a shift or an alternate approach to their health conditions.
There are situations when I may need more information or when a particular clinical situation is complex enough for me to want more time to spend hearing a guest tell me their story. This is when someone with chronic complex issues may need to see me, have me review their medical history or utilize our laboratory facilities do get further diagnostic assessments and then see me again in follow up. Using the second level of the program - the In-Depth Medical Consultation - is typically warranted in this situation. So for that individual who has diabetes or a combination of complex conditions, they should probably consider spending more time and having a more thorough evaluation. That can be done in a 100-minute session or two 50-minute sessions separated by a period of time - usually a few days.
And finally, as a physician who appreciates that lifestyle change doesn't occur overnight, I am looking to create an ongoing relationship with guests. Offering a trusting partnership with them is essential so that when they leave Miraval, we can continue the momentum we've started. My staff is eager to continue our relationship with individuals via telephone and e-mail messaging to offer them a link between our office and their real-life situations.
Our goal is to continue the experience we've established with our guests - to encourage, educate and motivate them as they implement and go beyond those initial suggestions.
Describe the benefits of this Program and what participants can expect while at Miraval and upon returning home.
I'm looking for guests to be much more knowledgeable about their conditions and what the first steps are in creating an action plan that is understandable and manageable to start immediately. I'm looking for guests to feel like someone has listened to them without judgment, and taken in what is most important. I am also looking to start building a positive momentum to begin their process by certainly offering hope, renewed energy and an assurance that they are not alone. By focusing on healing first, I want guests to get a sense of what living well can feel like - oftentimes, it can give better energy and sleep, less pain, an improved self-image and confidence to keep moving forward.
I am always available in person at Miraval or at a distance - either through e-mail or on a telephone consultation. We offer individual phone consultations for 30 and 50 minutes with me, in addition to the grouped visits included in the 8 Week Program.
In addition, my nurse, Sheryl, is a very important connection between me and our guests, once they have left. One of her several functions here is to be a link for guests to contact - whether it is answering a quick question, ordering further nutritional supplements, going over diagnostic tests that may need further guidance or just touching base to notify us of any changes. We want to create a partnership that is based on trust. But most importantly, we want to establish a way to translate that initial experience once our guests get exposed to their worlds back home.
More information about Miraval's Integrative Wellness Program led by James Nicolai, M.D.