St. John's Wort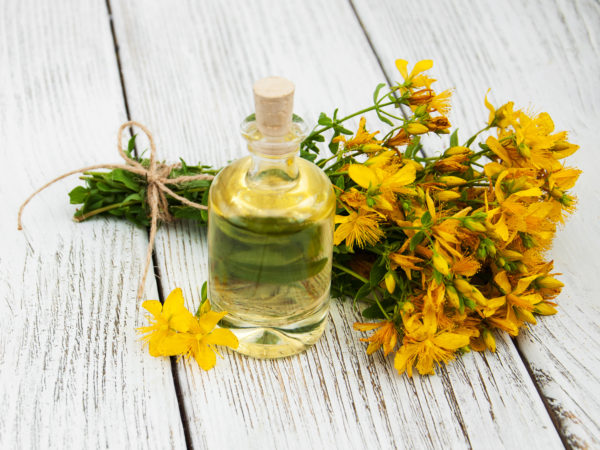 St. John's Wort (Hypericum perforatum)
St. John's wort is a weedy, yellow flowered plant that has been used for centuries as an herbal remedy for many ailments, including wounds and mood disorders. It was also thought to rid the body of evil spirits.
St. John's wort is indigenous to Europe, but has been introduced and thrives in many temperate areas of the world, where it grows in the wild. St. John's wort is considered an invasive species and is toxic to native organisms in many countries. Ingestion by livestock can lead to central nervous system depression, spontaneous abortion, and even death.
It is named for St. John the Baptist as its flowers bloom around the time of his birthday in late June.
Uses For St. John's Wort:
The flowers and leaves of St. John's wort is most commonly used to treat mild to moderate depression and anxiety. Research has shown St. John's wort to be more effective than placebo and as effective as standard prescription antidepressant therapy for the treatment of mild to moderate depression, but not effective for treating severe depression. Multiple studies have been published about its use for major depression, sometimes with conflicting results, but many experts believe St. John's wort may be effective. The herb has also been used for insomnia, anorexia, anxiety, loss of appetite, and skin irritation, including herpes simplex. Preliminary investigations suggest the herb may benefit those experiencing seasonal affective disorder (SAD).
Some studies show St. John's wort may be effective in relieving menopausal symptoms and healing minor wounds when applied topically.
Studies have not found St. John's wort to be an effective treatment for attention deficit-hyperactivity disorder, hepatitis C, HIV/AIDS, or irritable bowel syndrome. There is also insufficient evidence for the effectiveness of St. John's wort for treating obsessive-compulsive disorder, premenstrual syndrome, or for smoking cessation.
Topically, oil of St. John's wort may be used for treating bruises, inflammation, muscle pain, minor burns, and bug bites.
Available In:
Tablets, capsules, tinctures, liquid extracts, powdered extracts, dry herbs, oils, and teas
Interactions And Warnings:
St. John's wort appears safe when taken orally for 8 to 12 weeks, although some studies show that it is safe to take for up to a year. Ingesting large doses of St. John's wort can increase the risk of phototoxic skin reactions (see below).
St. John's wort should not be taken with medications for depression, anxiety, and other mood disorders. It can also affect the metabolism and reduce the effectiveness of numerous medications such as birth control pills, treatments for HIV, cyclosporine, anti-arrhythmics such as digoxin (Lanoxin), and blood-thinning medications such as warfarin (Coumadin). If you are taking any prescription medication be sure to speak with your doctor or pharmacist before using St. John's wort.
Depression should be clinically diagnosed to determine the severity and whether treatment with medication is required. People with bipolar disorder should not take St. John's wort because it may trigger episodes of mania.
Studies show St. John's wort is safe for children ages 6-17 when used orally and appropriately in the short-term.
Women who are pregnant or are nursing should avoid St. John's wort until more is known about its effects.
St. John's wort side effects include an increased sensitivity to light (phototoxicity associated with exposure to sunlight and UV light therapy) including an increased risk of cataracts, vivid dreams, insomnia, restlessness, agitation, dizziness, and headache.
St. John's wort may induce psychosis in patients with Alzheimer's disease and schizophrenia.
When used to treat depression and suddenly discontinued, St. John's wort has been associated with symptoms of withdrawal similar to those experienced with conventional antidepressant medication. These effects are most likely to occur within the first few days of discontinuation but are possible a week or more after ending treatment.
When Buying St. John's Wort:
Look for standardized products containing 0.3 percent hypericin or 2 to 5 percent hyperforin.
St. John's Wort Dosage:
For adults, use 300 mg three times a day. For topical use on irritated skin, apply the oil directly several times a day.
Children over age six can safely take St. John's wort at half the adult dosage. Again, it should not be taken in combination with other mood and antidepressant medications, and should only be used after discussion with your child's doctor. Topical applications can be used at the adult dose. 
Dr. Weil Says:
If you have persistent feelings of sadness or notice that your mood changes when the seasons do, you should first seek a medical workup to ensure the proper diagnosis. Then discuss St. John's wort with your doctor. Remember, it may take a couple of months to work. If your symptoms worsen to the point where it affects your ability to function, do not wait it out. Contact your physician or other mental health professional and explore additional treatment.
SOURCES:
Consumerlab. consumerlab.com/tnp.asp?chunkiid=31050
Natural Database – naturaldatabase.therapeuticresearch.com/nd/Search.aspx?cs=NONMP&s=ND&pt=100&id=329&fs=ND&searchid=37306247
Natural Health, Natural Medicine: The Complete Guide to Wellness and Self-Care for Optimum Health, by Andrew Weil.
National Institutes of Health, National Center for Complementary and Alternative Medicine
nccam.nih.gov/health/stjohnswort/sjw-and-depression.htm
University of Maryland Medical Center – umm.edu/altmed/articles/st-johns-000276.htm
Seifritz E, Hatzinger M, Holsboer-Trachsler E. Efficacy of Hypericum extract WS(®) 5570 compared with paroxetine in patients with a moderate major depressive episode – a subgroup analysis. Int J Psychiatry Clin Pract 2016;20:126-132.
Wölfle U, Seelinger G, Schempp CM. Topical Application of St. John's Wort (Hypericum perforatum). Planta Med 2014;80: 109-120.
Reviewed by Russell Greenfield, M.D., August, 2016.