Gurmar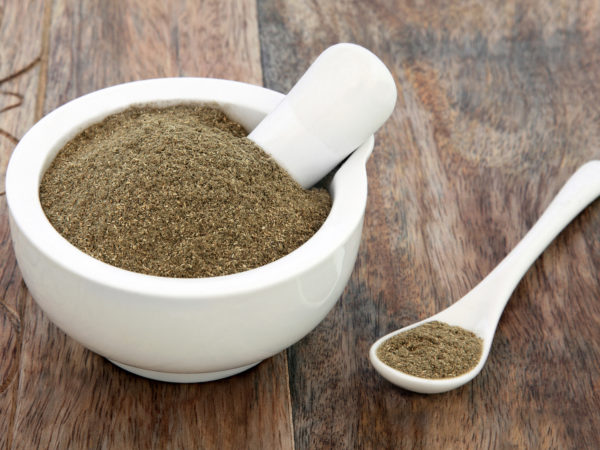 Gymnema sylvestre
Gurmar, also known as gymnema, is native to the tropical forests of southern and central India and Sri Lanka. The herb is a slow-growing, perennial climber with elliptical leaves and small, yellow flowers. The medicinal part of the plant is the leaf, which reduces or eliminates the ability to perceive sweetness. For instance, after eating gurmar, a banana can taste like a bland, overcooked vegetable. This is due to the presence of compounds, known as gymnemic acids, which bind to taste receptors on the tongue.  This effect has been known for centuries – the Hindi name gurmar translates as "destroyer of sugar." Studies have also found these gymnemic acids exhibit anti-diabetic and anti-inflammatory activities.
Used for:
Gurmar is an herb used in Ayurvedic medicine, the traditional medical system of India, for treating diabetes, constipation and minor digestive complaints. It is also used to facilitate weight loss.
Studies of gurmar are primarily from India. The focus of these studies is on certain compounds found in the herb, called gymnemic acids, which have been shown to decrease the absorption of sugar from the intestines. These compounds may also increase insulin levels in the body. One study using 400 mg of a water-soluble fraction of gurmar leaves for 18 to 20 months found that patients with diabetes were able to decrease their dose of prescription diabetes medication due to reduction in blood sugar. Five of the patients were able to discontinue use of conventional diabetic medicine entirely, and maintain their healthy blood glucose levels.
Natural Medicines Comprehensive Database (NMCD) states there is developing research suggesting an extract of gurmar, in combination with diabetic medications, can moderate blood sugar levels in people with type 1 or type 2 diabetes. However, there is insufficient evidence to make specific claims as to the effectiveness of gurmar at this time.
Available In:
Standardized extracts.
Herb /drug interactions:
Gurmar may increase insulin levels in the body, thus decreasing blood sugar. Closely monitor your blood sugar if you use gurmar in combination with blood sugar and diabetes medications, as it may cause an unsafe blood sugar balance in the body.
Other safety concerns:
The NMCD states gurmar appears safe to use for up to 20 months when used appropriately. There is insufficient information available regarding use during pregnancyor while breastfeeding – avoid using when pregnant or nursing.
When buying:
Look for a standardized extract and buy from only a reputable manufacturer.
Dosage:
For lowering blood sugar, take 400 mg per day of standardized extract or one to two grams per day of the dried leaf.
Child Dosage:
Generally half the adult dose. Talk to your child's physician before using.
Dr. Weil says:
The primary natural therapies to address metabolic syndrome and type 2 diabetes should always be a low-glycemic-load diet and regular exercise. However, hypoglycemic (blood-sugar lowering) foods and herbs may also be helpful. One such herb, gurmar, is available in health food stores and is safe and effective; it is well worth some experimentation to assess its effects on blood sugar.
Reviewed by Tieraona Low Dog, M.D., March 27th, 2014.
Sources:
Baskaran, Kizar, B. Kizar Ahamath, K. Radha Shanmugasundaram, and E. R. B. Shanmugasundaram. "Antidiabetic effect of a leaf extract from< i> Gymnema sylvestre in non-insulin-dependent diabetes mellitus patients." Journal of ethnopharmacology 30, no. 3 (1990): 295-305.

Duke, James A. Handbook of Medicinal Herbs. Boca Raton, FL: CRC, 2002. Print.

Gymnema. Natural Medicines Comprehensive Database. Stockton, CA: Therapeutic Research Faculty. [Updated July 15, 2011; Reviewed Dec 17, 2012; Accessed March 17, 2014]. http://naturaldatabaseconsumer.therapeuticresearch.com/nd/Search.aspx?rn=4&cs=NONMP&s=NDC&pt=100&id=841&fs=NDC&searchid=45614140

Liu, H. M., F. Kiuchi, and Y. Tsuda. "Isolation and structure elucidation of gymnemic acids, antisweet principles of Gymnema sylvestre." Chemical & pharmaceutical bulletin 40, no. 6 (1992): 1366-1375.