Black Cohosh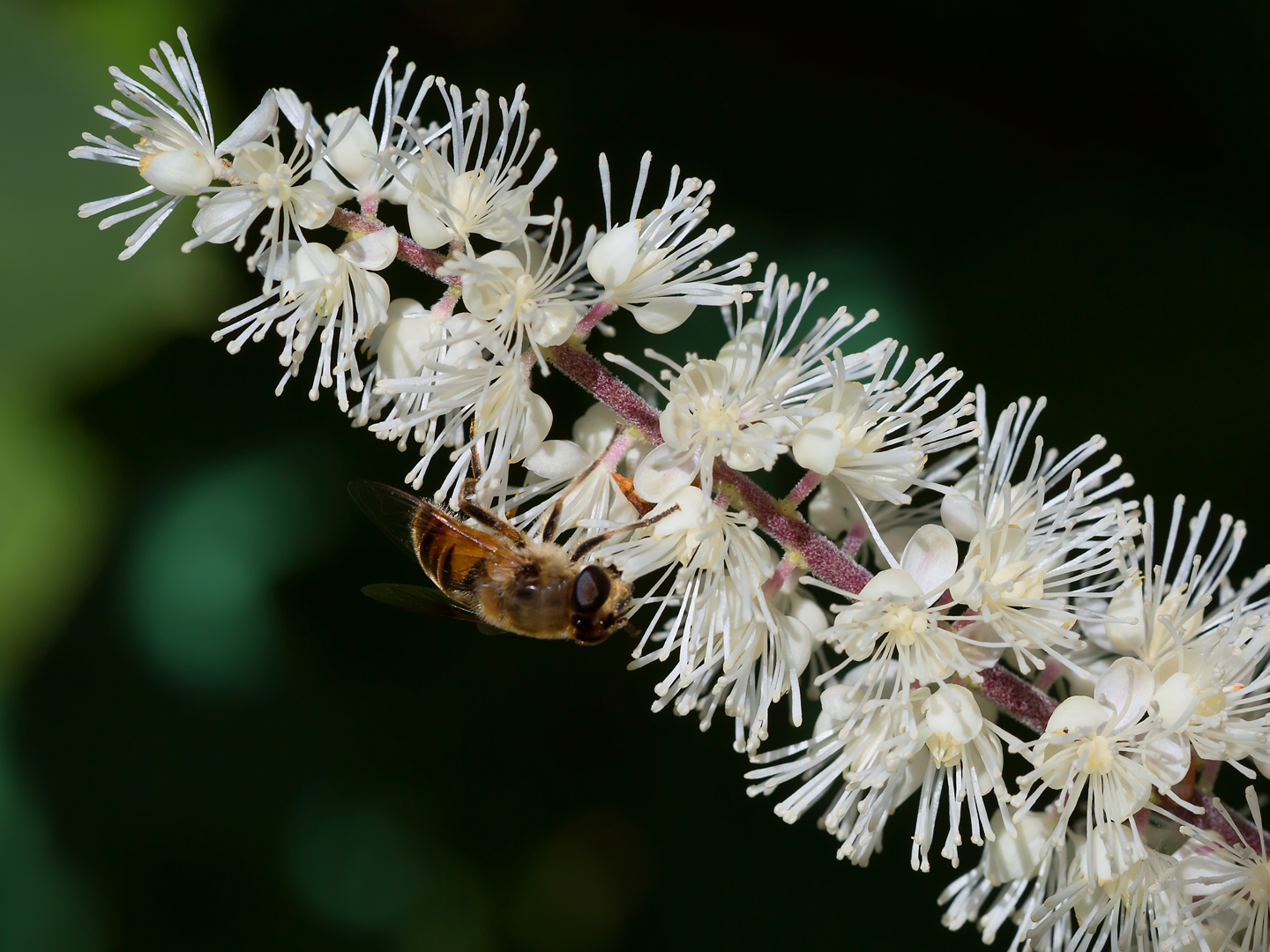 Cimicifuga racemosa, Actaea racemosa
Black cohosh is a perennial herb native to North America. A member of the buttercup family, it grows in woodland areas and can reach heights of two to four feet. A popular garden ornamental, its dried seedheads remain attractive for weeks after it flowers. It has a distinctive, variable odor that has been described as sweet, cloying or putrid.
Used for:
Black cohosh has a long history of medicinal use by North American Indians to address gynecological and kidney disorders, malaise and sore throat, colds and cough. Black cohosh was also used as a home remedy in 19th-century America to induce menstruation, and was prescribed by physicians in the Eclectic tradition  (a 19th and early 20th century American medical philosophy that used herbal and Native American remedies) to address conditions related to women's reproductive organs.
It is still occasionally used topically to treat skin conditions such as acne and wart and mole removal, but other applications that are no longer in use include treating rattlesnake bites and repelling insects – neither of which has been proven to be effective.
In the mid-1950s in Europe, black cohosh became a popular treatment for women's health issues, and today is widely used for relief of hot flashes due to menopause, menstrual cramps, and premenstrual syndrome (PMS). The American College of Obstetricians and Gynecologists states that black cohosh may be helpful in the short term (six months or less) for women with symptoms of menopause.
How it works is not precisely known. The most current research indicates that black cohosh interacts with neurotransmitters such as serotonin and norepinephrine, and inhibits inflammation. It does not have estrogenic activity.
Available in:
Black cohosh is available in capsules, tablets, tinctures and teas.
Herb / drug interactions:
Black cohosh may interact adversely with atorvastatin (Lipitor) and other herbs or supplements that may harm the liver. It may decrease the effectiveness of cisplatin (Platinol-AQ), which may be taken for cancer.
Other safety concerns:
Known adverse effects of black cohosh include infrequent gastrointestinal discomfort and, rarely, dizziness, headache, nausea and vomiting. In June 2007, the U.S. Pharmacopeia (USP) proposed requiring a cautionary statement (not a warning label) on black cohosh for these effects.
Women who are pregnant, breastfeeding or have conditions that could be affected by female hormones should use black cohosh only under physician supervision. In addition, anyone with liver disorders, protein S deficiency or who have received a kidney transplant should avoid black cohosh.
When buying:
Look for high-quality product from a reputable company. Black cohosh is generally consumed in capsules or as a tincture. The typical dose range for black cohosh root is 1,,000 to 1,500 mg per day taken in 2-3 divided doses. Black cohosh extracts standardized to 2.5% total triterpene glycosides are typically dosed at 40 to 80 mg taken two times per day.
Dosage:
For menopausal symptoms, 20 to 80 mg once or twice daily by mouth.
Child dosage:
There is no recommendation for black cohosh in children.
Dr. Weil says:
One of the best-studied traditional herbs for menopause, black cohosh may be helpful to some women experiencing menopausal symptoms, but is not effective for all women. While any therapy that influences hormonal actions should be undertaken with caution, black cohosh does not appear to have estrogenic activity, and thus may be safe for women with a personal or family history of breast cancer.
Sources:

Black Cohosh. Natural Medicines Comprehensive Database Consumer version. Stockton, CA: Therapeutic Research Faculty, Updated December 26, 2012, accessed January 8, 2014 at http://naturaldatabaseconsumer.therapeuticresearch.com/nd/Search.aspx?cs=NONMP&s=NDC&pt=100&id=857&fs=NDC&searchid=44588320

"Dietary Supplement Fact Sheet: Black Cohosh." Office of Dietary Supplements, National Institutes of Health, accessed January 8, 2014 at http://ods.od.nih.gov/factsheets/BlackCohosh-HealthProfessional/

Upton, R, ed. Black Cohosh Rhizome Actaea racemosa L. syn. Cimicifuga racemosa (L.) Nutt. Standards of analysis, quality control, and therapeutics. American Herbal Pharmacopoeia and Therapeutic Compendium. Santa Cruz, CA. American Herbal Pharmacopoeia, 2002: 1-38.
Reviewed by Tieraona Low Dog, M.D., February 18, 2014.