Bilberry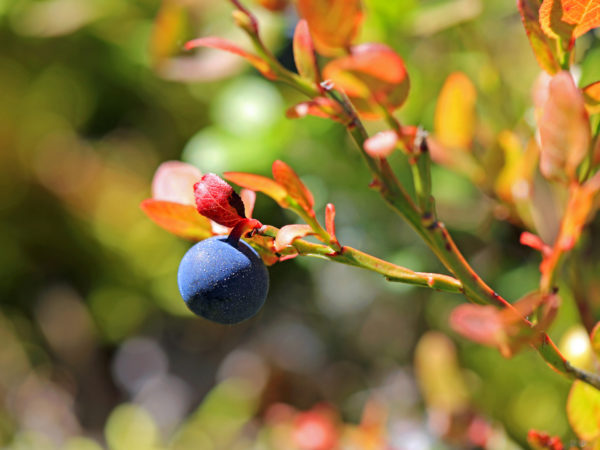 Vaccinium myrtillus
Bilberry is a botanical relative of the blueberry and cranberry. It is a shrub with leathery leaves. The name bilberry is actually derived from the Danish 'bollebar,' which means dark berry in reference to the typically dark-blue fruit. Bilberries were commonly used to make jams and pies and were also used medicinally for conditions ranging from diarrhea to varicose veins. The roots were used as a gargle for sore throat and mouth sores, while the leaves were used for minor urinary infections.  Bilberries contain antioxidant plant pigments called anthocyanosides, which are believed responsible for their health benefits.
Used for:
Bilberry, both fruit and leaves, has long been a folk or traditional remedy for a wide range of disorders. These include diarrhea, menstrual cramps, eye problems, varicose veins, and circulatory conditions including venous insufficiency (a condition in which there is insufficient blood flow from leg veins back to the heart). In Europe, bilberry extracts are used to treat venous insufficiency. While improvements have been reported, well-designed studies are lacking.
Bilberry has also been used as a treatment for atherosclerosis (hardening of the arteries) purpose. Some studies have indicated that the anthocyanosides in bilberries can strengthen blood vessels, improve circulation, and prevent the oxidation of LDL ("bad") cholesterol, but more research is needed.
Bilberry has also been used to treat chronic fatigue syndrome, hemorrhoids, diabetes, osteoarthritis, gout, skin infections, gastrointestinal disorders, kidney disease and urinary tract infections.
Diabetes: Bilberry leaves have long been used in traditional medicine to control blood sugar levels in individuals with diabetes, and we now know that all types of berries can help lower blood sugar levels after consuming meals high in sugar. Research has shown that bilberries may be particularly helpful in controlling blood sugar levels when eaten with oatmeal.
Vision problems: The anthocyanosides in bilberries may help protect the retina, and for that reason bilberry has been suggested as a treatment for retinal damage (retinopathy). Bilberry may also protect against macular degeneration, glaucoma, and cataracts, but has not been studied as a treatment for these eye disorders.
Diarrhea: Bilberry's anti-inflammatory effects may help control diarrhea by reducing intestinal inflammation (although efficacy has not been established).
Available In:
Bilberry leaves and fruit can be used to make teas and are also made into extracts. Bilberry extracts and capsules should be standardized to contain 25 percent anthocyanins.
Herb /drug interactions:
Using bilberry leaves when you are taking medications for diabetes might cause a rapid, excessive reduction in blood sugar. Be sure to monitor your blood sugar carefully. Because the anthocyanosides in bilberries may affect blood clotting, it is best to avoid them if you're on blood-thinning medications, including aspirin, to minimize the risk of bleeding.
Other safety concerns:
Bilberries are safe when consumed as food, and at recommended dosages, the extract is considered safe for short-term use. However, the safety and side effects of long-term use of bilberry extract haven't been established. Tannins present in bilberries may lead to severe weight loss, muscle spasms, and even death if large amounts of concentrated extracts are used long-term. The safety of bilberry during pregnancy and breast-feeding isn't known, so it is best to avoid use at these times. Because bilberry can affect blood glucose levels, which could interfere with blood sugar control during and after surgery, it is best to stop taking bilberry two weeks before scheduled surgery.
When buying:
Look for standardized bilberry extracts that specify flavonoid content.
Dosage:
To treat eyestrain, use 25 to 50 mg of bilberry extract. The effects are most noticeable in the first four hours but wear off in 24 hours. For other uses, take 80-120 mg twice a day of standardized bilberry extract (with 25 percent anthocyanins).  For diarrhea, use five to 10 grams of crushed dried bilberries in two-thirds of a cup of cold water, boil for 10 minutes and then strain. Don't use this remedy for more than four days. For circulatory problems, the dosage is 80 to 480 mg of bilberry extract in capsule form.
Child Dosage:
Under medical supervision, crushed dried bilberries can be used to treat diarrhea in children age two and older.
Dr Weil says:
I recommend bilberry extract for treating eyestrain. The effects are most noticeable in the first four hours after taking a 25 to 50 mg dose of the extract, but they wear off within 24 hours. Bilberry extract contains potent antioxidants that may help reduce or eliminate bruising by stabilizing collagen, increasing intracellular vitamin C levels and strengthening capillaries.
SOURCES:

Accessedat www.Bilberry (Vaccinium myrtillus). Natural Standard Database Website. Accessed at www.naturalstandard.com on March 5, 2014

Bilberry. University of Maryland Medical Center, University of Maryland Medical System, 22 S. Greene Street, Baltimore,  MD 21201. Updated  December 28, 2012, accessed January 7, 2014. https://umm.edu/health/medical/altmed/herb/bilberry, accessed March 11, 2014.

http://nccam.nih.gov/health/bilberry
Reviewed by Tieraona Low Dog, M.D., March 18, 2014.