The Legacy Of Aspiration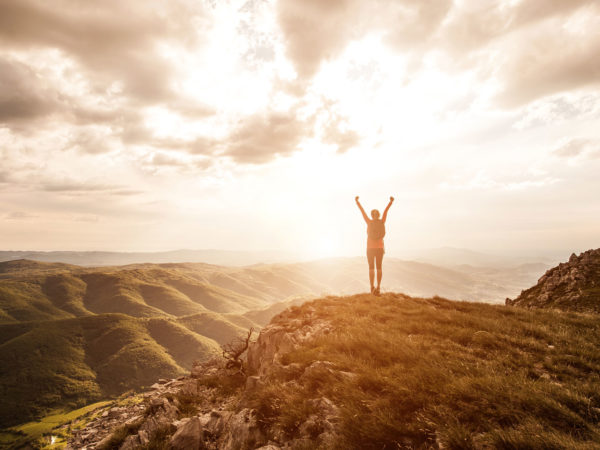 Have you ever peeked to see what's beneath your bucket list? Is there something deeper driving you? You may not be aware of it, but maybe there's something your deeper self – your soul – wants you to do.
We aren't just our past (genetics/ancestors/personal history) or our present (who we are today/our actions and lived values). We are also our future (our vision of who we will become/our aspirations of how we will make ourselves and the world better/our evolving personal purpose or mission).
Fifty years ago I left home with my then husband to serve in the US Peace Corps (Tunisia) for two years. Five years ago, I went on a ten day journey to Israel, with a group and my rabbi. Nine weeks ago, I left my habitual home, routines, language, family, friends, and set out alone to live in Jaffa, Israel, for two months. I chose Jaffa because it is an ancient city with a history and today a rare place where Jews and Arabs live together as neighbors and in harmony.
In part I went to support my oldest granddaughter, who was in Basic Training with the Israeli Defense Forces where she'd chosen to serve for two years.
But there were other reasons for my journey, although I didn't have words nor did I really understand what was driving me. As I neared the end of my stay, my understanding of motives and learnings remained vague. Yet I knew that I'd left home curious, open to adventure and learning . . . but what?
This morning I randomly read something on my desktop my rabbi wrote in 2015. It was about the difference between who we are and who we aspire to be. He described our habitual lives: "how we tend to associate most readily with people who are just like us – same color skin, same neighborhoods, same socio-economic status – if we stay on this walkway, we continue to be carried along and become further polarized and indifferent to a world filled with a variety of people . . . . in order to change our most basic selves we have to give ourselves missions and challenges in real time, with real people that are not part of our mono-cultural circle. . . .taking opportunities to have personal interactions with members of other groups, to travel, but not in a bubble like when you visit a foreign city but wind up eating at Applebee's."
I've had "aha" moments almost every day, made mistakes, gotten lost, taken a bus North when I meant to go South, witnessed people's sad and triumphant stories of how their families got to Israel, enjoyed incredible natural beauty, carefully preserved antiquities, and been part of hilarious and incongruous scenes.
One of my experiences was to volunteer as an assistant teacher at The SchoolHouse, a non-profit evening school, teaching English and computer skills to refugees. The students, most men in their 20s – from Eritrea, Sudan, and Somalia, (some possibly in danger of being deported!) – are earnest about their study of English, and very appreciative of their teacher and me. They each introduced themselves to me, and I to them; I told them I was from Minneapolis, and that we are home to the largest number of Somalis in all of the U.S.
One of the Somali students approached me after class. Wearing a broad smile, he told me his brother, Dahir, lives in Minneapolis and is studying to become an electrical engineer! We exchanged contacts, and I plan to call Dahir (to give greetings from his brother Daoud), and to ask him if he knows Somali women who would like an English tutor. Who'd have thought that a "small world" includes a 79 year old Jewish woman from Minneapolis and a 25 year old man from Somalia meeting in a Tel Aviv classroom?
And what has any of this to do with legacy – my eternal question?
As you know, I'm committed to the idea that we all are responsible to discover, preserve, and communicate our legacies in writing to future generations. I also deeply believe that we leave legacies by our acts, our interests, our lived values, and our aspirations for ourselves and the world. It's not that I haven't been a good example for my children and grandchildren, but my life was feeling habitual and a bit stale.
Today I feel like a refurbished house: full of good stories to tell, refreshed, relaxed and open – both empty and full – in a way I can't yet describe. I feel fortunate to be alive, and filled with love in a very difficult world. If I pass some of that on, I'll feel that I've left a worthwhile legacy to those I love. 
"Messenger" [excerpt]
My work is loving the world. . . .
Am I no longer young, and still not half-perfect? Let me  
keep my mind on what matters,
which is my work,
which is mostly standing still                                                                  
and learning to be astonished. . . .
– Mary Oliver
Practice:
Reflect about what's on your bucket list, and what's inside or beneath it. Questions you might consider include: Am I bored with my life? Am I stuck in a rut that is comfortable, even pleasant, but stuck never the less. Am I becoming all I want to be in my life? Are there things my heart and soul are dreaming for me that I've not been aware of but they're calling to me now?
Write about your state of "astonishment," that quality so apparent in young children, but often lost by the time we're grown, that Mary Oliver writes she's learning about at the age of eighty.
Write a legacy to someone you trust (and love) about who you are today, and who you aspire to be tomorrow. Share the excitement and trepidation inherent in hearing a call from deep inside to be "more". Write about deciding on your response to the aspiration, not just for yourself, but as a significant component of your legacy.
Rachael Freed, LICSW, senior fellow, Earl E. Bakken Center for Spirituality & Healing, University of Minnesota, is the author of Your Legacy Matters and Women's Lives, Women's Legacies. [email protected] and www.life-legacies.com