Herbs
Triphala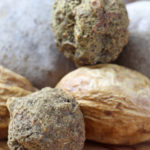 This Ayurvedic remedy for regulating the bowels is a combination of three fruits that tone the muscles in the large intestine. Ideally triphala should be used on a regular basis, however, and not just when temporary constipation occurs.
Related Weil Products
advertisement
Are You Getting The Herbs and Supplements You Need?

Everyone's dietary needs are different based on a number of factors including lifestyle, diet, medications and more. To find out which herbs and supplements are right for right for you, take the
Weil Vitamin Advisor
.
Used for:
Constipation, poor bowel tone
Available in:
Capsules
Herb / drug interactions:
None known
Other safety concerns:
None known, but if you're taking medication and triphala, take them at different times of the day.
When buying:
Take only capsules. Avoid the powdered form. Two Indian brands, Dabur and Hammdar, are recommended by Indian practitioners of Ayurvedic medicine.
Dosage:
As product directs. Best used regularly to improve bowel tone. Take seperately from other other medications.
Child dosage:
Same as adult dose