Herbs
Bromelain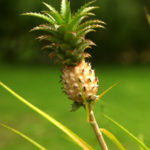 Used for:
Bromelain benefits may include treatment of swelling, pain and bruising after injury, persistent hematoma, bunions, bursitis, tendonitis, carpal tunnel syndrome, gout, sinusitis.
Related Weil Products
advertisement
Are You Getting The Herbs and Supplements You Need?

Everyone's dietary needs are different based on a number of factors including lifestyle, diet, medications and more. To find out which herbs and supplements are right for right for you, take the
Weil Vitamin Advisor
.
Available in:
Capsules
Herb & drug interactions:
Unknown
Other safety concerns:
May cause an allergic rash in susceptible individuals; discontinue use if you develop hives, rash or itching.
When buying:
For convenience, look for 250 mg pills.
Dosage:
Bromelain dosage: 200-400 mg three times a day on an empty stomach (at least 90 minutes before, or three hours after eating).
Child dosage:
Half the adult dose