Herbs
Black Currant Oil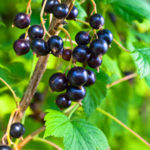 Ribes nigrum
Black-currant oil is a supplement which is a natural source of an unusual fatty acid, GLA (gamma-linolenic acid), an omega-6 fat that is very hard to come by in the diet.
Related Weil Products
advertisement
Are You Getting The Herbs and Supplements You Need?

Everyone's dietary needs are different based on a number of factors including lifestyle, diet, medications and more. To find out which herbs and supplements are right for right for you, take the
Weil Vitamin Advisor
.
Used for:
Auto-immune disorders including lupus, eczema, psoriasis, other skin problems; hair problems (dry, brittle, thinning, splitting); nail problems (weak, brittle); premenstrual syndrome; inflammatory disorders.
Available in:
Gel caps
Herb / drug interactions:
None known
Other safety concerns:
None
When buying:
Black-currant oil is a source of gamma-linolenic acid (GLA), an essential fatty acid. Capsules should contain at least 45 mg of GLA. Avoid topical oil preparations.
Dosage:
500 mg twice a day
Child dosage: