Herbs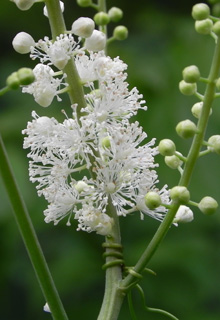 Black Cohosh
Cimicifuga racemosa, Actaea racemosa
Black cohosh is a perennial herb native to North America. A member of the buttercup family, it grows in woodland areas and can reach heights of two to four feet. A popular garden ornamental, its dried seedheads remain attractive for weeks after it flowers. It has a distinctive, variable odor that has been described as sweet, cloying or putrid.
Used for:
Available in:
Black cohosh is available in capsules, tablets, tinctures and teas.
Herb / drug interactions:
Black cohosh may interact adversely with atorvastatin (Lipitor) and other herbs or supplements that may harm the liver. It may decrease the effectiveness of cisplatin (Platinol-AQ), which may be taken for cancer.
Other safety concerns:
When buying:
Dosage:
Child dosage:
Dr. Weil says: