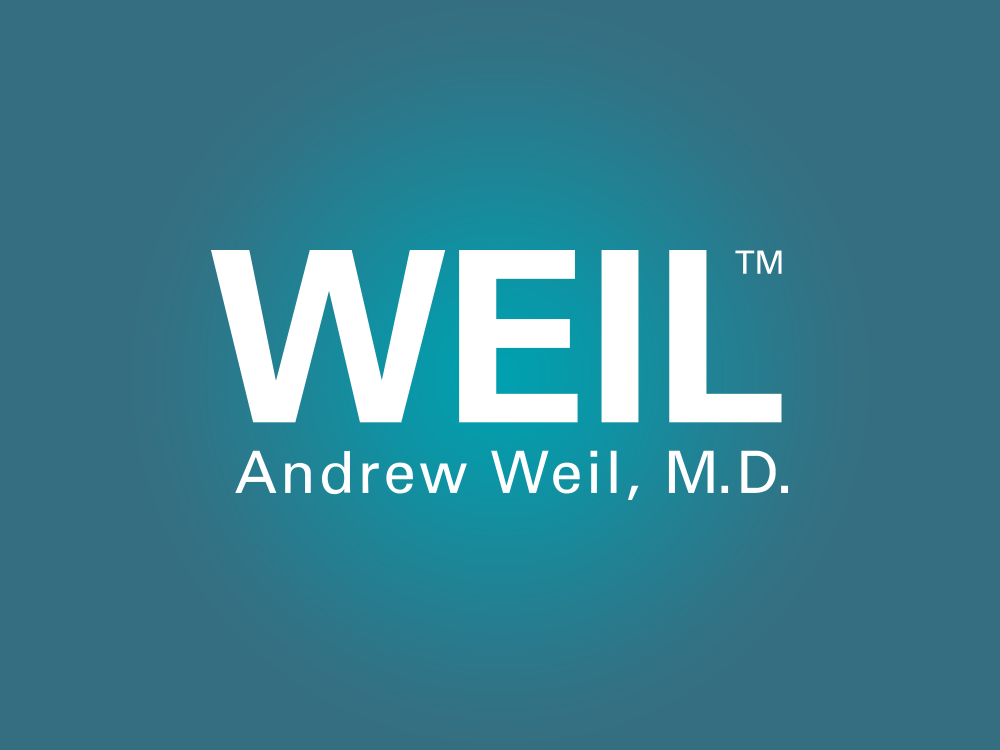 Meet Dr. Weil's Anti-Inflammatory Food Pyramid!
I'm happy to announce that my anti-inflammatory diet is now represented in a way that makes it easy to study, remember and use. A new graphic aid known as Dr. Weil's Anti-Inflammatory Food Pyramid uses the familiar food pyramid iconic shape adopted by the USDA in 1992. But this one provides a quick visual reference to anti-inflammatory foods, beverages and spices, helping to keep users on track as they pursue optimum health.
Eating according to the principles outlined in the pyramid should help you reduce inappropriate inflammation, which is a major contributor to many chronic conditions such as cardiovascular disease, cancers and Alzheimer's disease.
The most common complaints I hear about eating healthy is that the right foods are too expensive and too time-consuming to prepare. Becoming familiar with this pyramid should persuade you that healthy foods are relatively inexpensive and take no more time to fix than less-healthy alternatives. And keep in mind that this pyramid reflects not just my views, but the consensus opinion of leading nutrition scientists from around the world, many of whom come to the Conference on Science and Nutrition sponsored annually by the Arizona Center for Integrative Medicine.
Bottom line: Print it out, post it on the refrigerator, and let it guide you to optimal health. Bon appétit!
Want Even More Anti-Inflammatory Info?
From shopping and eating guides to hundreds of recipes, Dr. Weil on Healthy Aging has it all – including an exclusive, enhanced version of Dr. Weil's Anti-Inflammatory Food Pyramid! Start your free trial now!
---
Vitamin B12 for a Bigger Brain
Low levels of vitamin B12 may endanger the brain as we get older. A study from Oxford University in England found that seniors whose blood levels of B12 were low were at higher risk for brain atrophy (shrinkage), a change that is linked to Alzheimer's disease and other cognitive losses. The investigators followed 107 volunteers aged 61 to 87 with annual physical exams, MRIs, blood tests and cognitive tests. Those whose B12 levels were lowest when the study began had a measurable decrease in brain volume by the time the investigation ended five years later. Compared to participants with the highest B12 levels, those with the lowest levels had a sixfold greater rate of brain volume loss. None of the participants were actually deficient in B12 – even the lowest levels were within the normal range, the researchers reported. The study was published in the Sept. 9, 2008 issue of Neurology. An ongoing clinical trial at Oxford, to be completed in 2009, is testing whether vitamin B12 supplements can slow brain shrinkage among seniors with memory problems.
Are You Getting Enough B12?
Find out – visit Dr. Weil's Vitamin Advisor today for your free, personalized supplement recommendation. See if B12 is suggested for you – and get free shipping on your first order in September!
---
Eat All You Want: But Exercise … A Lot
The Amish diet is high in fat, calories and sugar, but a new study shows that you can eat that way and not get fat. Not even when you have a copy – or two! – of a gene that predisposes you to obesity. Researchers found that the most active Amish men in Lancaster County, PA averaged 18,000 steps a day, the women, 14,000. That dwarfs the amount of walking the average American does daily. The Amish live without electricity -no washing machines, clothes dryers, dishwashers, vacuum cleaners. They have no cars or tractors on their farms. Some study participants with one or two copies of the so called "heavy" gene were overweight, even obese, but those who performed the most physical activity weren't – they burned about 900 more calories a day than the less active Amish. About 50 percent of all people of European descent carry the "heavy" FTO gene seen among the Amish. This study suggests that to avoid becoming overweight or obese we need to burn a lot of extra calories a day in the 21st century, perhaps an amount equivalent to scrubbing floors, washing dishes by hand, or plowing fields the old-fashioned way. The study was published in the Sept. 8, 2008 issue of the Archives of Internal Medicine.
Need Help Getting Your Diet Right?
Dr. Weil's My Optimum Health Plan has a Meal Planner based on health condition, eating preferences and dietary restrictions. See if it's right for you – take the tour and get a free recipe!
---
Smoked Fish with Horseradish Sauce
If you have never dealt with a fresh horseradish root, be prepared for an experience. In the days before food processors, grating the root by hand was just like being exposed to tear gas. Freshly ground horseradish with vinegar and a little salt completely outclasses the prepared varieties sold in stores, and mixed with low-fat sour cream, it becomes a wonderful condiment for fish, boiled or baked potatoes, and other cooked vegetables.
View Recipe
Healthy Aging Tip
Courtesy of Dr.Weil on Healthy Aging
Seasonal Foods – Bell Peppers. Available in appetizing colors including green, yellow, orange, red and black, bell peppers are a crunchy, refreshing way to add aesthetic appeal and nutrients to your meals. A low-calorie vegetable, bell peppers are excellent sources of vitamins A and C and provide dietary fiber, folic acid and vitamin B6. Plus, if you choose red bell peppers, you will be getting lycopene, an important carotenoid that helps protect against prostate and other cancers.
---
Featured Discussion:
"Is genetically modified corn safe to eat?" asks glillian.
I just bought some corn at our local farmers market. I asked the grower if he used pesticides. He said no. I bought six ears. As I was leaving, he said …(the corn) was genetically modified so the worms wouldn't eat (it). I don't think I want to eat …corn (that) worms (won't eat). … Should I compost my corn or eat it?
---
Sponsor
Vital Choice Wild Seafood & Organics
Experts including Dr. Weil agree that wild salmon is a pure and natural "super food," rich in nutrients that promote optimum health. Visit www.vitalchoice.com for the finest wild seafood and organic fare. While you're there, be sure to sign up for "Vital Choices," our free food and health newsletter guaranteed to inform and empower!
---
What's New
Senior Health Care and Wellness Forum
September 29, 2008, Tucson, Arizona
Congresswoman Gabrielle Giffords, in partnership with PCOA, is sponsoring a special half-day forum on how to improve individual healthy aging. Special luncheon speaker will be Dr. Andrew Weil. The forum will also feature presentations by leading local experts on exercise & nutrition, and PCOA will present ways older adults can take responsibility for their own health. Cost is $25 per person. Seating is limited to 250 people. Reserve your seat today by registering online or RSVP by September 19 to PCOA at (520) 790-0504. YWCA, 525 N. Bonita Ave., Tucson Ariz.
Healthy Aging Workshop with Andrew Weil, M.D.
October 26 – 29, 2008, Tucson, Arizona
During this three-day workshop you'll learn techniques that will help you thrive in every stage of your life. Join Dr. Weil and his personally selected group of experts from various fields (nutrition, fitness, movement and more) pertaining to healthy aging. There are a limited number of openings for this extraordinary opportunity to meet and learn from Dr. Weil himself, the founder of the Program in Integrative Medicine at the University of Arizona. For more information, or to register visit Miraval's Web site.
FEATURED PRODUCTS