Weil For Vital Choice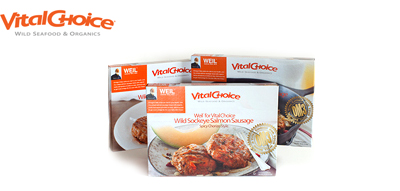 "Omega-3s are vital to health. These unique Salmon Sausages offer an easy, delicious way to get more into your daily diet. I enjoy them and hope you will too." – Andrew Weil, M.D.
Dr. Weil favors wild Alaskan Salmon for its fine flavor, unique health and nutrition attributes, and certified sustainability.
Delighted by the superior-quality wild salmon from Vital Choice, he urged these former fishermen to turn some into sausages, and created three flavorful seasoning blends in his home kitchen.
Wild Salmon Sausages from WEIL™ for Vital Choice offer unique benefits:
Gluten-free
Certified Kosher "Square K"
Cook fully from frozen in 10 minutes
1,000 mg of omega-3s and 580 IU of vitamin D per 3 oz patty
No nitrites, nitrates, MSG, soy, corn, wheat, eggs, dairy products, or sugar
Pure, certified-sustainable Wild Alaskan Sockeye Salmon, with organic seasonings and natural arrowroot powder
Certified by the Marine Stewardship Council to contain only sustainably harvested wild Alaskan Sockeye Salmon
Choose from among three vibrant flavors, or get two patties of each in the Sampler Pack. Each box of Vital Choice Salmon Sausage contains six 3-oz patties.
---