How Can I Protect Myself Against The COVID-19 Delta Variant?
I'm worried about the new variant of the coronavirus. Are there immune boosters that will ward it off?
Andrew Weil, M.D. | September 13, 2021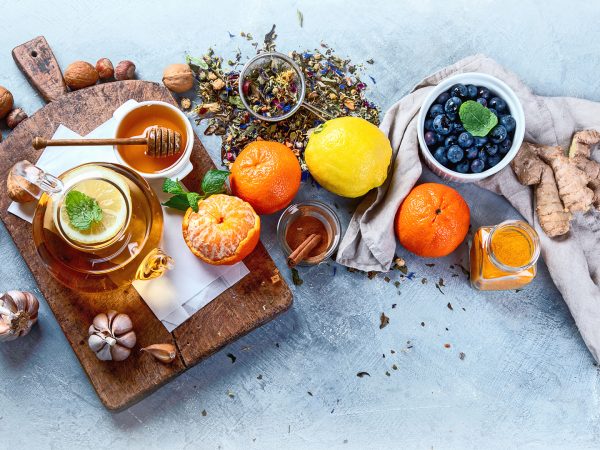 Since it first appeared in India in October 2020, the delta variant of the coronavirus has swept around the globe and is now the predominant strain in the United States. It is more contagious that the original virus and its earlier variants, and it seems to cause more severe illness, especially in those who have not been vaccinated. It's understandable that you're worried about it, but the way to ward it off is the same as it is for the other strains: Get fully vaccinated, stay socially distant whenever possible, wear a mask indoors when near others, wash your hands frequently, and keep your body in the best health possible.
As for general immune boosters, I recommend considering the following foods, herbs and nutrients to help support a healthy immune system when faced with the common cold and other viral illnesses:
Garlic (Allium sativum) 
Quercetin (found in buckwheat, apples, onions, kale, tomatoes, broccoli, asparagus, berries, red wine, and tea)
Green tea
Astragalus membranaceous (huang qi)
Full mycelium and fruiting body mushroom extracts
Andrographis paniculata
Zinc
Vitamins A and C
See my guide to What You Should Know About the Coronavirus for more about all of these immune boosters and more tips on how to protect yourself.
No one can predict if the surge in new infections fueled by the delta variant will recede soon, or if the coming fall weather—with a return to schools and offices moving people indoors—will cause yet another wave of new infections. There are also other variants circulating now, with new mutations sure to emerge, and no one can predict how the current vaccines will protect against those. The basic tenets of good health remain your best defense against these and other illnesses: Eat well, get enough sleep, stay active, and manage stress. During the pandemic, continue to use the proven strategies for avoiding infection, starting with getting the vaccine.
Andrew Weil, M.D.
Sources:
https://www.cdc.gov/coronavirus/2019-ncov/variants/delta-variant.html
https://covid.cdc.gov/covid-data-tracker/#variant-proportions
https://www.business-standard.com/article/current-affairs/decoded-how-delta-variant-first-found-in-india-is-spreading-across-globe-121062600980_1.html