Feeling Unstable? Try These 4 Suggestions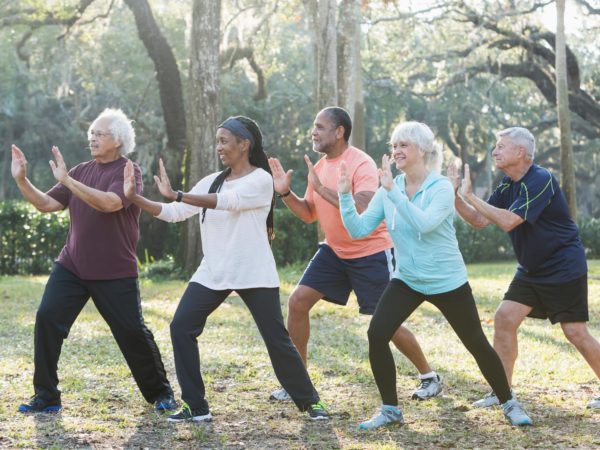 This tip is courtesy of Dr. Weil on Healthy Aging. For more guidance on promoting a healthy lifestyle as you age, start your 14-day free trial.
It is estimated that one in three Americans over the age of 65 falls each year, and two-thirds of those will fall again within six months. Falling has the potential to cause serious injury such as broken bones, and can also damage one's confidence, sometimes quite significantly.
The good news is that there are steps you can take to help prevent dangerous falls:
Remain physically active. Simple daily exercise will help improve and maintain muscle and bone strength. Look for high quality shoes that offer enough support to keep you moving comfortably and securely through your exercises and daily movement. If you feel even slightly off balance, speak to your physician about getting a referral to a physical therapist. They can help evaluate areas of weakness and guide you to improving both strength and balance to get confidence back in your step.
Try Tai Chi. It helps teach balance and coordination. Yoga and dancing can also be beneficial. Find a local class or start online and plan regular sessions
Do a home safety check. Eliminate throw rugs and floor clutter, add grab bars to your bathroom, and have one phone that's accessible from the floor.
Check your medicine cabinet. Know the side effects of any medication, prescription or otherwise. Many medications have lightheadedness or vertigo as a side effect. Speak with your doctor about better options. If that conversation does not go very far, consider seeking out a trained integrative medicine provider from our University of Arizona Fellowship Program to have a deeper discussion about alternatives.
advertisement

Today's Health Topics
Editor's Pick
Health Focus
Ask Dr. Weil's Q&A
Supportive Sandals For All-Day Wear
                                                                  Hit the refresh button on your summer style and discover Vionic's on-trend sandal collection. Designed with unmatched biomechanical support, you'll move with confidence all day, every day.                                                                                                                                                                            Shop the 
Vionic Sandal Collection
 and enjoy free shipping with the code WEILSUMMER, valid through 7/31.