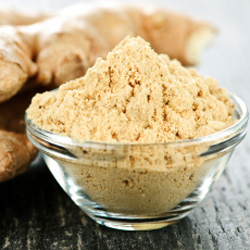 Are You Using Ginger For Its Heath Benefits?
If minor aches and pains are an issue for you, try ginger, a natural anti-inflammatory agent that is useful for relieving symptoms associated with arthritis, bursitis, motion sickness, nausea and more. Ginger is commonly available in forms ranging from whole fresh root, crystallized ginger and honey-based ginger syrups to capsules containing powdered extracts. Look for products made with only 100% pure ginger. For inflammatory conditions, take one or two grams of powdered ginger a day; for nausea and prevention of motion sickness, take 1,000 mg as a preventive and 500 mg every four hours as needed. (You might also try eating eat two pieces of crystallized ginger, taking a spoonful of ginger syrup or sipping ginger tea.)
Since high doses may cause a burning sensation in the stomach, take ginger with food. Ginger may also act as a blood thinner, so curbing daily use at least two weeks before surgery is advisable. If you are pregnant, use ginger to address morning sickness with some caution – I would not recommend using more 1,000 to 1,500 mg per day taken in two to four divided doses, particularly during the early stages of pregnancy.
Your New Years' Skincare Resolution
Determined to get rid of post acne scars, UV damage or age spots? Discover Dr. Andrew Weil for Origins™ Mega-Bright Skin Tone Correcting Serum. 92% showed a dramatic improvement in evenness of skin tone in just 4 weeks. Get a limited edition recycled tote bag with your order today. Plus, our everyday free samples. Enter code TOTE at checkout. Shop Origins.com.
Advertisement
Related Weil Products
Everyone's dietary needs are different based on a number of factors including lifestyle, diet, medications and more. To find out
what vitamins you need
, take the
Weil Vitamin Advisor
. This 3-step questionnaire requires just minutes to complete, and generates a free, no-obligation vitamin and nutritional supplement recommendation that is personalized to meet your unique nutritional needs.
Get Started