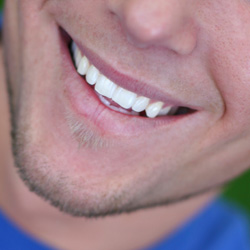 4 Simple Ways To Whiter Teeth
If you are a cola, coffee, tea or red wine drinker, you may experience discolored teeth. Actually, any food or drink capable of staining clothes or carpets – including fruit juices, blueberries, soy sauce and curry – can also stain teeth. While the best way to get rid of persistent stains is with professional teeth cleaning, you can help prevent stains – new or recurring – with the following:
Rinse your mouth with plain water after you drink or eat staining foods and beverages.
Brush your teeth twice a day with whitening toothpaste. Many natural-ingredient-based toothpaste brands now have whitening varieties.
Floss daily (stains around the edges of your teeth can occur when plaque accumulates at the gum line and absorbs color from food and drink).
Sip temperate fluids through a straw, which minimizes contact with teeth.
Be cautious about over-the-counter teeth whitening kits, and talk with your dentist about professional options. You should be aware that any method of tooth bleaching may, over time, break down the integrity of the teeth. That can leave them more susceptible to future stains. Tooth sensitivity is a common side effect of teeth whitening, but usually decreases over time.
An Origins™ Top Seller
Check out Dr. Andrew Weil for Origins™ Mega Bright collection. The Skin Tone Correcting Serum helps skin stay clear, bright and luminous. 83% of those tested showed a visible reduction in the appearance of dark spots in just 4 weeks. This top selling serum ships free! Shop Origins.com today.
Advertisement
Related Weil Products
Everyone's dietary needs are different based on a number of factors including lifestyle, diet, medications and more. To find out
what vitamins you need
, take the
Weil Vitamin Advisor
. This 3-step questionnaire requires just minutes to complete, and generates a free, no-obligation vitamin and nutritional supplement recommendation that is personalized to meet your unique nutritional needs.