Worried About Your Thyroid?
Published: 01/15/2014
Learn More:
Acetyl L-Carnitine (ALCAR)
Related:
Vitamin Library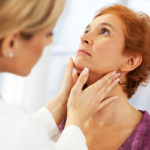 According to the American Association of Clinical Endocrinologists, about one in eight women will develop a thyroid problem in her lifetime. The thyroid is a small, butterfly-shaped gland in the neck that influences metabolism and the function of the kidneys, heart, liver, brain and skin.
It is important to make sure your thyroid is functioning normally – learn about the symptoms of thyroid disease, such as changes in sleep and energy levels, weight loss or gain, and hair loss; create a personal health history and then talk with your physician if you have questions or concerns. Simple tests can help determine if your thyroid is over- or under-functioning, and proper medications and lifestyle changes can help address any concerns. Learn more about women's health concerns – visit the DrWeil.com Women's Health Center.
Find out which vitamins are right for you.
Everyone's dietary needs are different based on a number of factors including lifestyle, diet, medications and more. To find out
what vitamins you need
, take the
Weil Vitamin Advisor
. This 3-step questionnaire requires just minutes to complete, and generates a free, no-obligation vitamin and nutritional supplement recommendation that is personalized to meet your unique nutritional needs.
Mega News from Origins!
Introducing 2 new superstars to Dr. Andrew Weil for Origins™ Mega-Bright collection. The Dark Circle Minimizer rapidly and visibly helps delete darkness, diffuse puffiness and strengthen fragile eye skin. The Oil-Free Moisturizer now with SPF 30 is clinically proven to brighten skin and diminish dark spots.
Discover the collection today and get free standard shipping on your order! Shop Origins.com